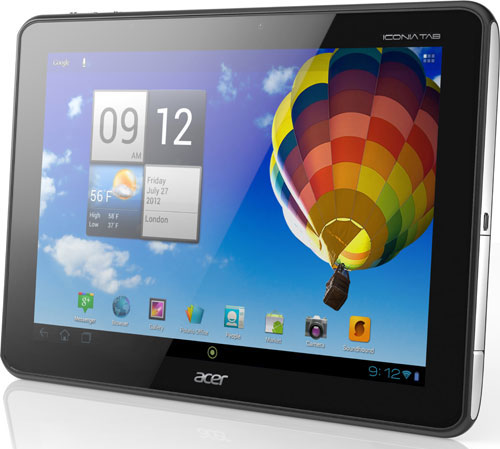 Rejoice, Olympics fans! Or anyone who's been waiting for Acer Iconia Tab A510 for that matter. The Olympics-themed successor to Iconia Tab A500 is now in-stock in the US. The slate was first announced at CES 2012 and has been viewable in public since then. Last month, it went on pre-order in Canada and the US for $449. Although not available in stores yet, it should be out in the coming days or weeks. If you can't wait until then, the best thing to do is order it online and have it shipped to you right away.
Those who pre-ordered one from last month will likely get their hands on it first. Orders could be on their way to homes at this moment. The US website of Acer clearly states that Iconia Tab A510 is now in-stock and you can order it online from select retail channels including S&R, Amazon, and Computers Sure. It's still selling for $449 which is the same as its pre-order price.
We already reviewed Acer Iconia Tab A510 a month ago and for its price, it's a much better deal than the new iPad whose cheapest model sells for $499.
While it doesn't have Retina Display, its 1280 x 800 screen resolution is the highest that Android slates have to offer. Specs of A510 include two shooters – one 5-megapixel rear-facing camera and a 1-megapixel front-facing camera; a USB port, HDMI output, microSD card support of up to 32GB, 1GB RAM, and internal storage of 32GB. The not-so-thin slate features a soft-touch back with an Olympics logo embellishment and a 12-hour battery life thanks to its healthy inclusion of a 9800mAh Lithium Ion battery.
Iconia Tab A510 is the first Acer tablet powered by Tegra 3. It runs Ice Cream Sandwich, the latest Android firmware. To get a closer look at its design and hardware, it's best you read our review on it and compare it to other tablets of your choice.