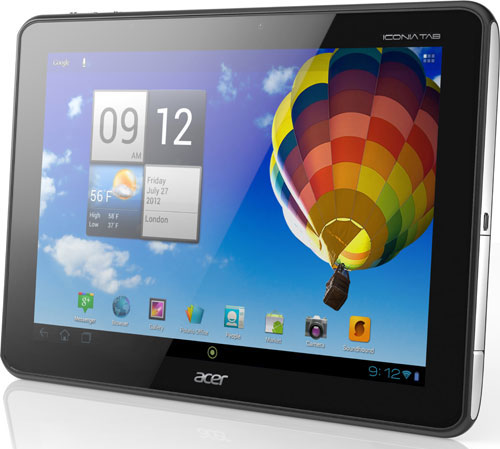 Iconia Tab A510 was Acer's first quad-core tablet. Powered by Tegra 3, it was also one of the first devices to pack NVIDIA's 4-plus-1 architecture. We first heard of it at CES 2012 back in January and was clearly a successor to last year's Iconia Tab A500. The tablet is now available as a pre-order in the US and Canada for $449, which is a bargain given its specs – even when compared the cheapest new iPad which sells for $499.
Design
Acer Iconia Tab A510 is by no means "thin" but I bet it would survive a drop test, not like the new iPad whose screen broke after it was dropped face down on cement – ouch. It has a bulky, thicker-than-usual build which has always translated to "sturdy" in my vocabulary. Even so, its overall design makes it easy to carry around and should fit snugly in your bag. And because it's an Olympic Games Tablet Edition, it looks classy with its soft-touch back and Olympic logo embellishments. You get to choose between black (A510-10k32) and silver (A510-10s32) models.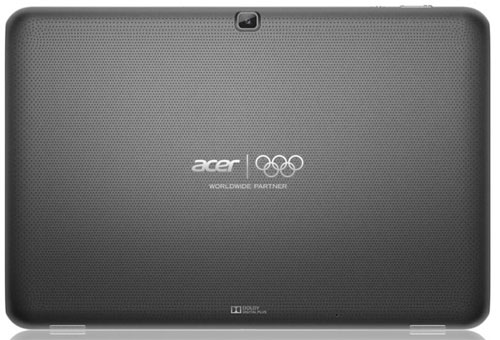 Specs
Moving on to specs, A510 has a 10.1-inch screen with WXGA HD display that's equivalent to 1280 x 800 pixel resolution. It has a wide 85-degree viewing angle which makes it great for watching movies in large groups, even if you're on the far end of the screen. It has a Dolby Mobile 3 audio speaker which doesn't just produce audible sounds – they're high-quality and loud too, another plus for watching videos. The new iPad fares poorly in this department based on speaker tests. Acer also promises an accurate and highly-responsive screen. Other specs include:
• Android 4.0 Ice Cream Sandwich
• Quad-core Tegra 3 CPU
• 5MP rear camera with autofocus and HD video recording, 1-megapixel front-facing camera
• Wi-Fi 802.11 b/g/n
• Bluetooth 2.1 + EDR
• USB 2.0 port
• HDMI out (can stream 1080p videos in 30fps)
• 32GB internal storage
• microSD support for up to 32GB
• HDMI support
• 9800mAh battery with 12-hour battery life
Verdict
Acer Iconia Tab A510 is an all-around tablet. Its specs are pretty impressive and more than adequate to support gaming, entertainment, and productivity. A 12-hour battery life is not much for a tablet, but quite good considering it has a quad-core processor. Its design is also something to rave about, especially if you're an Olympics fan. Better grab one for $449 in national electronics retail stores found in the US and Canada before pre-order stocks run out. Even though there's only a $50 difference between it and the cheapest new iPad (16GB Wi-Fi model), you should be more than willing to trade off Retina Display for all of its features. We're not sure how it will score on benchmarks though. The new iPad beats Asus Transformer Prime in 3D graphics performance.