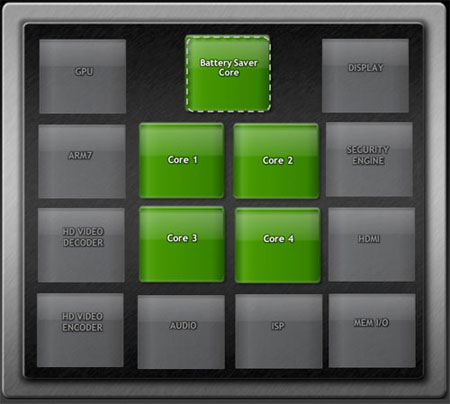 NVIDIA's latest innovation, Tegra 3, is not really quad-core. It is a five-core processor. Today, NVIDIA officially named it 4-PLUS-1. And they call the additional core "ninja".
The emergence of quad-core devices were predicted as soon as Tegra 3 was released on November 2011. What was not expected is for it to be the central theme of this year's Mobile World Congress. Barely past the first quarter of 2012 and numerous devices running the monstrous processor are either rumored to show up or have been announced by their respective manufacturers, days before MWC.
Today, NVIDIA decided to name their Tegra 3 processor. They call it 4-PLUS-1 – you know, since it really has five cores and not four. All cores of Tegra 3 4-PLUS-1 are Cortex A9 but one is merely a companion core and limited to a clock speed of 500 MHz. The companion core called "ninja" is solely used by a device during standby mode or when high speeds aren't required.
According to Michael Rayfield, the general manager of NVIDIA's Mobile Business Unit, their customers wanted them to come up with a unique name for Tegra 3. LG is first to use the new 4-PLUS-1 name on their Optimus 4X HD although HTC One X and several other quad-core phones have the same Tegra 3 monster inside their guts.
Tegra 3's ability to shift power to ninja, the cute 500 MHz companion core, saves battery. This is where dual-core Tegra 2 processors failed – exceptional speeds at the expense of poor battery life. But I am unsure whether this measure by NVIDIA is enough to improve battery life of quad-core devices. In my opinion, smartphone manufacturers still have to play their part in producing powerful batteries able to handle large screens and at least 24 hours of use.
via Engadget