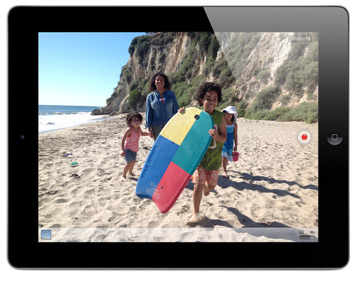 Watching movies on the new iPad is a "resolutionary" experience, even though tests show that iPad 2 has better battery life. Its screen packs twice the number of pixels per inch, making videos more vivid and life-like. But we don't just watch movies by staring at the screen – we also listen to sound effects, voice-overs, spoken words, and the background music which sets the mood of a scene. Our hearing needs to be stimulated just as much as our eyes. Question is, does the new iPad have a decent speaker for playing movies, videos, and music? Early reviews say the new iPad's speaker does a better job than its predecessors but real-world tests show otherwise.
Apple hasn't come up with good-enough speakers for any of their iOS devices. But because of the new iPad's impressive specs, we thought Apple would do better with their third-generation iPad. Sad to say, we were mistaken by this assumption. Recent tests performed by iMore shows that its speaker is just as loud as iPad 2. Georgia, senior Editor of iMore, performed the speaker tests herself.
She started by playing music and videos on the new iPad and compared it to iPad 2. "Sounded about the same to me" she remarked, after listening to both with her own ears. She turned off their volume controls for a while and pushed them to maximum, noting there was still no difference in audio.
To test the its speaker further in comparison to iPad 2, she downloaded Decibels on her jailbroken iPhone 4 to measure the loudness of a sound in decibels. She played a video on the new iPad and placed her iPhone a finger's width from its speaker. The app recorded a sound intensity of 88 decibels. After performing the same test on an iPad 2, Decibels recorded the same score. But Georgia didn't stop there. She asked Rene, iMore editor-in-chief, to perform the same test. While they didn't score 88 this time, the app still recorded similar results for both suggesting that their speakers aren't any different.
We're not sure if Decibels is an accurate way of testing the new iPad's speakers. But the app does implicate it has the same sound quality as iPad 2. Its less than 14-hour battery life would have been an acceptable trade-off for a speaker that delivers louder sounds. It's too bad that its speaker isn't any better while battery life falls short when compared to last year's iPad. We can only hope for better speakers in their next-generation iOS devices.
via iMore