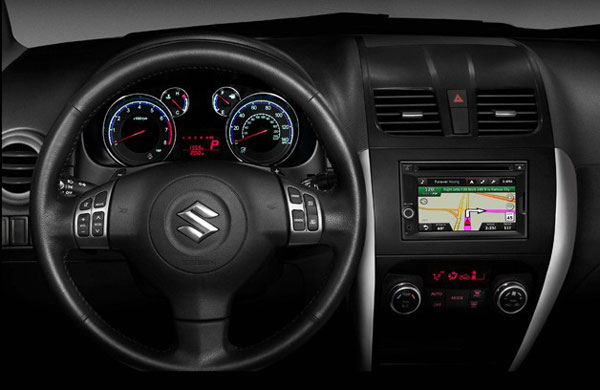 Garmin is known solely for their car navigation system by making use of GPS technology. Now it appears like they're stepping it up by dabbling with unchartered territory, at least for them. The Swiss company is starting a whole line of car entertainment systems beginning with pre-installed models for Suzuki vehicles. The In-Car Entertainment (ICE) system developed by Garmin remains unnamed but we do know some of its specs and quite honestly, we are thrilled to see how it will perform against competition like Mirage, the first Android-based car stereo.
The newly announced car stereo has a 6.1-inch touch screen, only a few millimeters smaller than Clarion Mirage announced a few days ago. You can easily access playlists and song collections on your iPod, iPhone, Android, or any other mobile device by connecting them to the car entertainment system. Logically, you can channel music from these devices and play them on your car stereo. Garmin's entertainment gadget also has a CD port and an SD card slot so you can play music from these two sources. When streaming music on Pandora with your phone, music is still playable on the car stereo as long as it stays connected to Garmin's device. Of course, the AM/FM radio is still around if you want to tune into local radio stations – a guilty pleasure that many of us have.
Garmin's car entertainment system is most advantageous for Android phone owners. By installing the Garmin for Android on their phones, car owners can check for weather and gas prices in real time more conveniently. While the app is launched, the phone should be connected to Garmin's device to show these data on its 6-inch display. Other practical features include viewing the car's back-up camera and making hands-free calls. Of course, Garmin wouldn't be Garmin without a navigation system. That is why their car entertainment system offers directions. It still has the basic steering wheel-based controls but gets extra voice control. According to Garmin, voice control was developed to work on all of the device's integrated functions.
Even though it will be available in upcoming Suzuki vehicles, Garmin didn't announce which cars are supported by their latest offering. We can expect to see it on 2013 models found in Australia, Europe, New Zealand, North America, and Russia. Yes folks, it's going to hit the US starting next year. It's really great to hear that a trusted brand for car navigation such as Garmin has finally decided to make their gadgets car entertainment-friendly.
The last thing they want to happen is be toppled over by Android devices which aren't only capable of playing music, they also have Google Maps integrated to them.