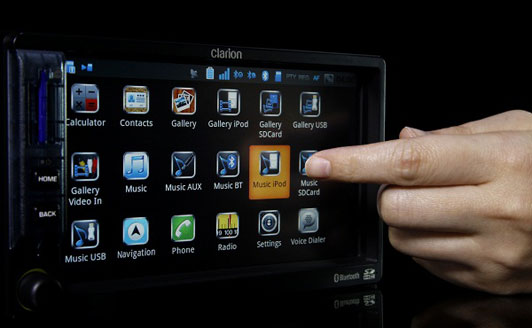 Clarion is an unfamiliar brand to those of you who know car stereos. The company has made itself known as a maker of In-Car Entertainment devices and now, they're adding Mirage into their lineup. Mirage is not your ordinary car stereo – it is the first OEM grade car entertainment device running Android. On top of that is a Garmin navigation system to help you find your way. Clarion announced Mirage yesterday in Malaysia and calls it a "smart car stereo."
Mirage has a 6.5-inch LCD touch screen with 800 x 400 pixels. Even though it runs Android 2.2 Froyo, it was customized for the Intel-owned Wind River car platform. Its user interface is not that different from its rivals so you can easily perform actions from the Home screen. But because it is based on Android, access to Google Play Store is possible. It's not clear whether we can download apps via WiFi, 3G, or 4G. All we know is that we can access Facebook and Twitter, or even play Angry Birds on Mirage based on the demo.
Known specs and features
• 1 USB port
• 1 SD card slot
• 1 AUX IN/OUT
• 1 AV IN/OUT
• RCA OUT x 4 channels
• Bluetooth connectivity
• Microphone for hands-free operation
• AM/FM radio support with RDS
• Built-in VAPS 3D for digital surround sound
Mirage doesn't have a CD slot but we don't find it troubling and neither should you\';p[. You can still play music from an SD card, Android phone, iPod Touch, or iPhone by connecting any of these four to the device. Equipped with a Navigon AG GPS software, it truly is a "smart car stereo" with its additional navigation system. Mirage is shipping to Proton, GM Thailand, Perodua, and other car manufacturers this year but won't be available for retail until fourth quarter.