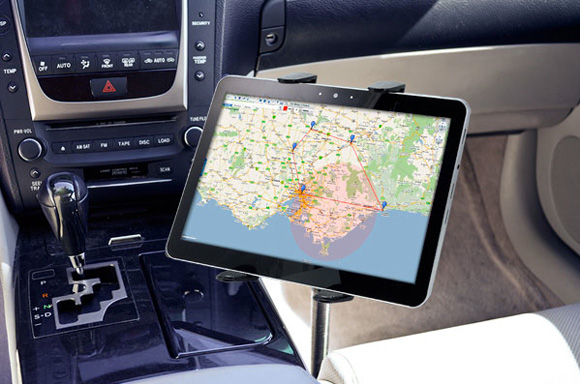 Whether you're using your car for everyday work or just for occasional trips, you've most probably already thought about improving something inside. The head audio unit is one of the things you can easily replace, but if you want something truly unique and more functional nowadays, just buying a new one is not enough.
If you're tech-savvy enough, you can replace your head unit with a tablet, and get a multifunctional media device on your car's dashboard, which can play music (and store tons of it), video, movies, show documents, write emails (especially with voice dictation), surf the Web and show you the way when traveling using the integrated GPS receiver – how about that for a head unit?
Choosing a tablet for personal use nowadays may not be easy with the dozens of models out there, but thankfully, it's easier to choose one that will go in your car and stay there pretty much all the time. Technically, you'd want something with a big enough display (10 or 7 inch, it's your choice), as many expansion options as possible, a good processor and enough RAM (a dual core 1 GHz Tegra 2 and 512 MB RAM should be the minimum), and a separate HDMI out port in case you want to output video or high quality audio to an external display or amplifier (and if you're going all out with the upgrade, why not?).
There are a lot of tablets that fit into that description, and of course, the most obvious one is the iPad 2 – it's a great all around tablet and there are a lot of accessories for it, as well. But, aside from the high price, it has a few drawbacks that make it a bad choice in a car – it's 4:3 format, which makes it a tad difficult to fit on a lot of smaller dashboards (wide screen 10 inchers fit better in portrait orientation), and it's made of aluminum, which makes the GPS reception a bit worse in the city, woods or underground (well, it's practically gone in a tunnel).
There are a lot of good Android tablets out there that would make a perfect head unit for your car, of which I would recommend the Toshiba Thrive, Motorola Xoom or the ViewSonic ViewPad 7x, all of which are made of mostly plastic, but are still durable, have dual core processors and enough space for all your stuff (via a micro SD card slot, which is even better since you can always swap them with others that have your favorite music/movies/whatever).
Finding a mount for the tablet is not as hard as it was just a year ago – there are a lot of universal tablet accessories, and you can find mounts for the windshield (not really recommended, though, as it limits visibility), dashboard or even the roof. As an example, the Arkon Tablet Windshield mount is pretty popular and works very well (plus it's extensible so you can actually see the road with a smaller tablet), and RAM Mounting Systems makes some very robust, albeit expensive, mounts that fit nearly all tablets and can be installed in more places on the dashboard thanks to the flexible mounting system.
The remaining parts – power and audio out to the car's speakers – are a bit harder, but thanks to the universal 5V USB charging capability on most tablets, you can always get a cigarette lighter adapter to power your tablet using your car's battery and a simple USB port. If you're lucky, even connecting the speakers will be easy – if your existing head unit has a stereo audio in jack, that is. A lot of them don't, however, and that's why you'll have to get a separate amplifier for your speakers and connect it instead of the former head unit. A simpler way would be to get a cheap head unit that has a stereo audio input port – they're not that expensive, and you can even use a cassette player – it doesn't matter, since you'll be feeding high quality audio from the tablet, anyway.
If you ever get a roof mounted or front seat displays, you can connect them using the HDMI out port and a HDMI port splitter or HDMI-Analog converter – there are a lot of them and it's only a matter of hiding the cables.
With a tablet in your car in place of the old head unit, you'll have one of the most advanced systems – I remember them costing over $1000 just a decade ago (with a pathetic 5 inch resistive touch display!). Isn't gadget technology wonderful :-)?