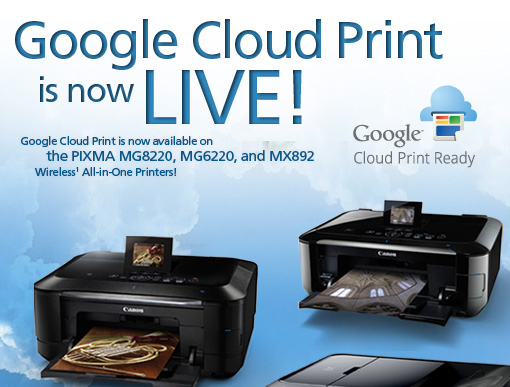 Even though pretty much everyone has a smartphone or a tablet by now, printed paper is still a very important part of our lives. Documents, graphics, photos, all look better on paper, but if you want to print anything, you'll find that you still need a desktop computer or at least a laptop to do it! Sure, you could also use a Windows powered tablet or netbook, but not everyone has those.
So what do you do if you tend to keep and view documents on your smartphone or tablet and want to print something directly from it? Fortunately, it's entirely possible to send documents to a printer right from your iPhone, iPad or any Android device. There are several ways to do it and they're improving all the time, and below I'll list the best of them for both Android and iOS.
First, if you have an Android phone:
Printing from Android is relatively easy using the Google Cloud Print software and the dedicated Cloud Print app on the Google Play store. All you have to do is have your printer connected to a computer and the computer connected to the Internet and then install the app on your Android phone or tablet. Unfortunately, it's still not possible to print directly to a printer, but the new printers with integrated Wifi cards will make that a reality soon enough. On the flip side, using Google Cloud Print makes it possible to print documents from any device anywhere in the world – sending documents and (pseudo-)faxes to your office couldn't be easier this way.
So, after you've installed and configured Google Cloud Print on your computer, you can easily access the printer from anywhere you want by knowing its IP address. You don't have to remember it – you can find it on your Google account and once you install the Cloud Print app on your phone or tablet, you'll only have to setup and save it once. The app looks nice and is straightforward to use – just select a file to print (from your phone or even a cloud service or remote server) and send it to your printer – that's it!
Now, the procedure is almost the same for the iPhone and iPad, but you'll have to use different software if your printer is connected to a Mac. If it's connected to a Windows machine, you can use Google's Cloud Print Web service, which is almost as good as the native app (and doesn't take as much space).
If you have a printer connected to a Mac, the best software to use right now is Ecamm's Printopia – it works the same way as Google's Cloud Print. Once you installed the apps and set up the printer, you can send the files you want to print from anywhere using your iPhone or iPad. Another cool thing about having an iOS device is that they support the new AirPrint format, which is only compatible with a handful of printers at the moment, but allows you to use those printers without needing a computer at all – you send the documents using Wifi straight from your iDevice.
Of course, you'll need to make sure your printer has enough toner or ink – you can order canon ink cartridges online, so you know your printer doesn't just throw an error and delete your files.
Now that you know which apps to use, all that you need to do is download them, set up your printer (don't forget to install new cartridges so you don't run out of ink/toner!) and save it as a device on your phone/tablet. Then you can go about your business and print anything from anywhere you want!