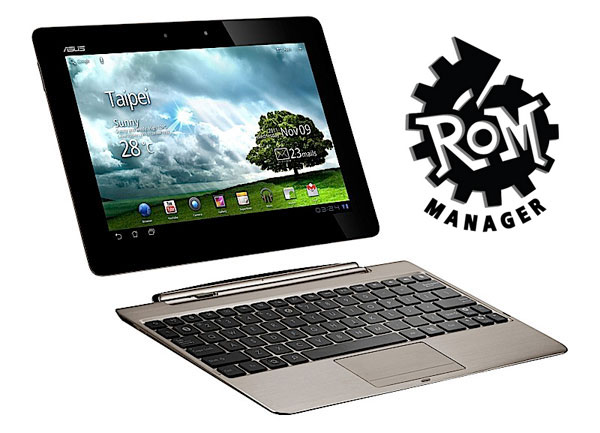 Clockworkmod Touch Recovery is the latest creation of Koushik Dutta. It is an update to Clockworkmod Recovery we've come to know for years. CWM Touch Recovery brings touch navigation and eliminates the need for hardware controls at the same time. The first tablets to receive CWM Touch Recovery are Asus Transformer Prime TF101 and TF201. The two are the most recent additions to the list of devices supported by the touch-enabled custom recovery image.
There are two ways to install Clockworkmod Touch Recovery on your Asus Transformer Prime. You either install it via fastboot or ROM Manager. Fastboot involves manual installation but the process is simple and most importantly, FREE. You can also install it via ROM Manager from Google Play – there is a free and paid version of the app. An advantage of ROM Manager is that it takes care of downloading and installing CWM Touch Recovery though you have to pay $1.99 to get it. Here at GadgetMania, we're going to teach you how to install the custom recovery file using both methods, starting with ROM Manager because it's easier to do.
Prerequisites for ROM Manager installation
• Asus Transformer Prime – bootloader unlocked and rooted, with 60 to 100 percent battery
• 60 to 100 percent charged Asus Transformer Prime
• Asus Transformer Drives installed on PC
• Download ROM Manager from Google Play
ROM Manager installation guide
1. Connect your Asus Transformer Prime to the internet.
2. Launch ROM Manager on your device.
3. Under "Recovery" click "Flash ClockworkMod Recovery" and wait to finish.
4. Under "More Recoveries" select "Flash ClockworkMod Touch" and choose your payment option.
5. Once you choose your payment method, the recovery image will be downloaded to your phone.
6. After download is finished, wait for the installation process to complete.
Prerequisites for fastboot installation
• Asus Transformer Prime – bootloader unlocked and rooted, with 60 to 100 percent battery
• Installed Asus Transformer Drives on your PC PC
• USB cable to connect your device to the PC
• Enable USB debugging mode on Prime by going to Settings > Applications > Development > USB debugging
• Download fastboot here
• Download Clockworkmod Touch Recovery image for Asus Transformer Prime from this link
Fastboot installation guide
1. Copy the recovery image to the Tools folder of your device. File name:
2. Turn off your device.
3. Boot your Asus Transformer Prime to Fastboot Mode by pressing and holding Volume down + Power button.
4. Connect your tablet to the PC with a USB cable
5. Launch the command prompt and type the following in order:
• C:
• cd\
• cd Tools
• fastboot -i 0x0b05 flash recovery recovery-clockwork-touch-5.8.1.8-tf201.img
6. After completing step 4, the Clockworkmod Touch Recovery image will be flashed on your device. Wait for it to finish.
7. When installation is complete, type "fast reboot" on the command prompt without quotes to reboot your Asus Transformer Prime. When it does, you already have CWM Touch Recovery installed on your device.
Clockworkmod Recovery is a useful tool that lets you backup and restore entire ROMs and saved data as well as install firmware, kernel, and boot image on your Android phone and tablet among many others. In summary, it helps you gain full control of your device.