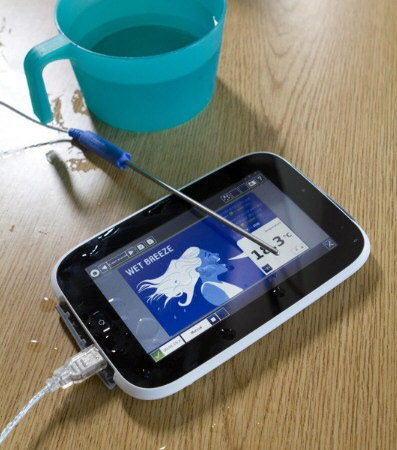 There's an oversaturation of 7-inch tablets in the market and Intel isn't helping. Today they announced yet-another 7-inch tablet. But before you shrug it off for its overused size, it is the first slate added to Intel's existing Classmate products for schools and students. Meet Studybook, a 7-inch tablet that's headed for your kid's school bag and schools near you.
Because it is intended for students, Intel not only built Studybook to be lightweight – weighing only 525 grams – it was also made to take a beating.
It has a plastic body able to withstand 3-foot drops and a rubber band surrounding the bezel to keep sand and dirt from getting stuck. The same rubber acts as a shock absorber for the screen. The USB 2.0 and HDMI ports, 3.5mm headphone jack, SIM, and microSD slots are also covered by rubber gaskets for added protection. Together, they make Studybook resistant to water, dust, and shock.
Studybook's 7-inch LCD screen has 1024 x 600 pixels and supports multitouch. It is powered by Intel Atom processor Z650 and will run either Windows 7 or Android; the decision is up to school districts for this one.
Internal storage may also vary from 4 to 32GB, or a 128GB SSD. It has a 2-megapixel rear-camera, a front-facing camera, microphone, and a light-sensor – specs which can be used in today's learning environment. Included in Studybook are a few useful software such as Kno's e-reader and LabCam. LabCam turns the rear-facing camera into a microscope with the help of special lenses.
No word on pricing yet or when it will be arriving in local schools near you. Intel hands over the pricing to manufacturers but we estimate it to be around $200 or less not because of its specs but because of its robust build.
The closest that Intel has come to a student-friendly device was a netbook that had a touchscreen – Convertible Classmate PC. Studybook may not be the first 7-inch kid-proof tablet out there but coming from a trusted manufacturer like Intel, it's worth your consideration.