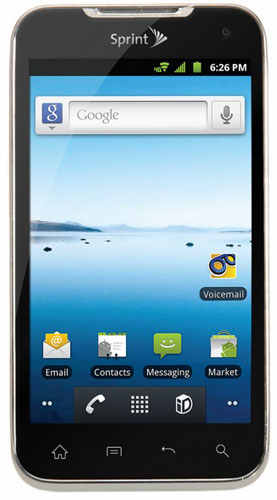 Sprint is going to release LG Viper 4G on April 22, exactly one month before the rumored announcement of Samsung Galaxy S3. Unlike Samsung's flagship phone, Viper 4G is a midrange smartphone with 4G connectivity as well as NFC. The Sprint-exclusive smartphone is available for pre-order beginning today and will arrive on your doorstep on April 22.
Both new and existing customers of Sprint can pre-order the phone on their website starting today. LG Viper is the first 4G LTE device offered by Sprint – not to mention the first with eco-friendly features. It is made of 50 percent recycled plastics and has an energy-efficient charger. The smartphone is ULE Platinum Certified which means it meets the standards of UL Environment and Sprint on environmental impact. Setting that aside, LG Viper 4G generally has midrange specs. It has a 4-inch screen with WVGA NOVA display, a 1.2GHz dual-core Snapdragon S3, 5-megapixel rear camera with flash, front-facing VGA camera, 1GB of RAM, 4GB internal storage, and a microSD slot for extra storage. It also has NFC, Google Wallet and mobile hotspot functionality, as well as the ability to connect to 4G networks. LG Viper runs Android 2.3 Gingerbread and has a 1700mAh battery. Sprint is offering a free 50GB cloud storage from Box to buyers.
Pre-order price of LG Viper 4G is $99 and is available in black. It comes with a two-year contract and a $50 mail-in rebate via Reward Card. Its regular off-contract price is $399.99 but the contract and rebate cut off $300 from its original value, leaving you with only $99 to pay. If you check out Sprint's website, it says they'll try to ship orders by Sunday, April 22. As of today, there's a limited offer for customers who activate a new line with LG Viper 4G. Sprint is waiving off the standard $36 activation fee but only for a limited time.
Once it goes on sale, LG Viper 4G will be available on all Sprint sales channels including Best Buy, RadioShack, their official website, and 1-800-SPRINT1. Terms will still be the same – $99 for a two-year contract. Perhaps the best part about this phone, however, is that Sprint is offering it with unlimited data plan among many other things.