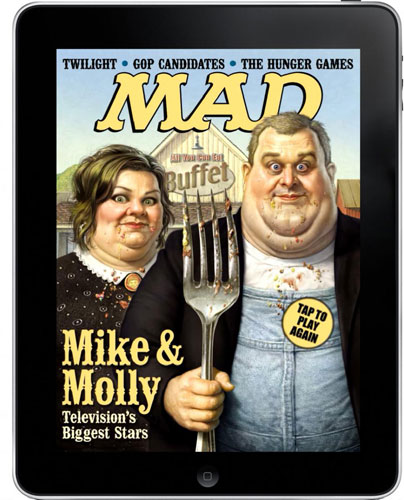 MAD, America's favorite humor magazine, is coming to iPad today – and this is no prank. The app is currently available for download at the Apple Store, right in time for April Fool's Day. MAD Magazine for iPad is a free download and lets you access yearly subscriptions as well as new and back issues for a fee. According to DC Entertainment, the app will also be loaded with interactive features and a free preview of the magazine.
"We're delighted to bring MAD to the iPad," said MAD Editor John Ficara. If you're unfamiliar to it, MAD started out as a satirical comic book in 1952 before it became a magazine. Since the beginning, it tackled pop culture, entertainment, public personalities, politics, and other life issues in a tastefully satirical manner. It was and remains to be an influential force of media in America.
Back issues of MAD Magazine can be purchased for $1.99 via the app and the latest issues cost $4.99 each. You also have the option to choose between two types of print subscriptions – per-issue or annual. On a per-issue subscription, the latest issues would only cost you $1.99 each but if you opt for an annual fee, you only have to pay $9.99. All print subscribers will be awarded free digital subscription as a bonus, which although similar to prints, have interactive features.
"With this app, we've taken everything that MAD readers like in the print magazine, and added entertaining digital design and fun interactivity," said Hank Kanalz, senior vice president of digital DC Entertainment. In addition to interactive content and subscription to digital and print issues, Kanalz says the app can be used to access all things MAD including their blog and TV series. What was not said is whether or not the app is optimized for the new iPad. We previously made a list of apps optimized for the new iPad, which although not many is good enough to go around.
via MADMagazine