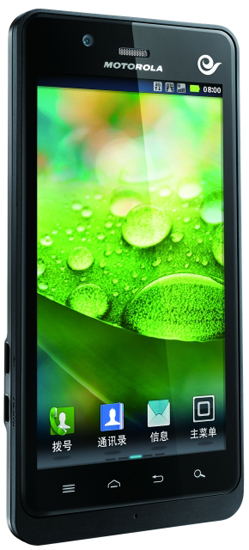 For the longest time Motorola stuck with TI OMAP and Tegra processors but it looks like they're eyeing Qualcomm for an upcoming device, MB886. Motorola MB886 has been codenamed Dinara and Quinara, but could very well be Atrix 3. The smartphone was recently benchmarked and along with a Qualcomm CPU, its other specs were revealed.
Device information reveals that MB886 is running Android 4.0.3, the latest version of Ice Cream Sandwich. It has a 1196 x 720 screen resolution which gives it a full HD display. This odd resolution – since 1280 x 720 is the usual standard – could mean it has on-screen navigational buttons like Galaxy Nexus. The last spec uncovered is a Qualcomm MSM8960 processor or better known as the Snapdragon S4 processor found in HTC One XL, the AT&T version of HTC One X. The dual-core processor is clocked at 1.5GHz and benchmark tests show it is faster than quad-core Tegra 3 in some aspects. Aside from the obvious fact that MB886 will be a dual-core Android smartphone running ICS, there are several more detail these specs indicate – one, it might have 4G and two, it could be headed for AT&T.
In retrospect, the international version of HTC One X originally ships with NVIDIA Tegra 3. Although powerful, Tegra 3 doesn't support 4G. And since AT&T wants to offer the same phone to their customers, HTC decided to replace Tegra 3 on HTC One X with Snapdragon S4 so it would be compatible to their expanding LTE network. Perhaps Motorola's choice to include Snapdragon S4 in MB886 means they're headed for the same direction. MB886 may be an LTE-enabled smartphone coming to AT&T in the near future. Regardless how it will end, we're all looking forward what other specs the Motorola phone has to offer given its so-far high-end specs.