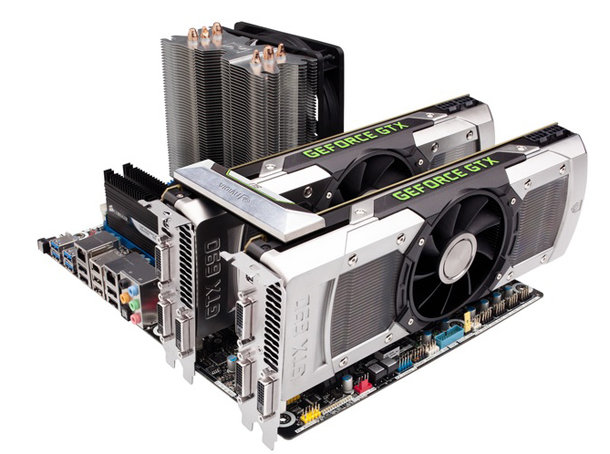 NVIDIA touted GeForce GTX 680 as the world's fastest graphics card. If you could recall, it had an impressive 28nm silicon architecture and had huge advantage over its rival, Radeon HD 7970. Now, barely a month after it was announced, NVIDIA announces GeForce GTX 690 and it doesn't just have one but two 28nm Kepler GPUs. The dual-GPU video card debuted this weekend at the GeForce LAN/NVIDIA Game Festival in Shanghai. It was announced by NVIDIA CEO Jen-Hsun Huang in a keynote.
Huang says GTX 690 was designed to be the best performing graphics card in history. "This particular graphics card we paid special attention to every single detail so that we could deliver the highest thermals, the highest acoustics, and the highest electrical performance with this particular design," stated Huang during the keynote.
GeForce GTX 690 will have 3,072 CUDA parallel processing cores which means it packs twice more power than what GTX 680 is capable of. It has 4GB of 6GHz GDDR5 RAM and all other features of GTX 680 such as GPU Boost. Although it offers twice the performance of its predecessor, it runs quieter and has better power efficiency than two GTX 680 cards connected through SLI configuration. The new design of GTX 690 largely contributes to its performance and efficiency. There's a new fan housing made of thixomolded magnesium alloy which improves dissipation of heat and vibration dampening.
The ducted baseplate channels and low-profile components reduce airflow obstruction which in turn improves the card's acoustics so it makes less noise. The ten-phase power supply and ten-layer copper-printed circuit board together make it more efficient at handling power. Finally, for cooling, NVIDIA integrated a center-mounted axial fan which spins 3000rpm.
Availability of GTX 690 will begin May 3, but stocks are limited. And starting May 7, it will be sold as an add-in card option in Asus and MSI laptops among many others. It is selling for a cool $999 which is the same price Origin PC is selling their 11-inch gaming laptop, EON11-S.