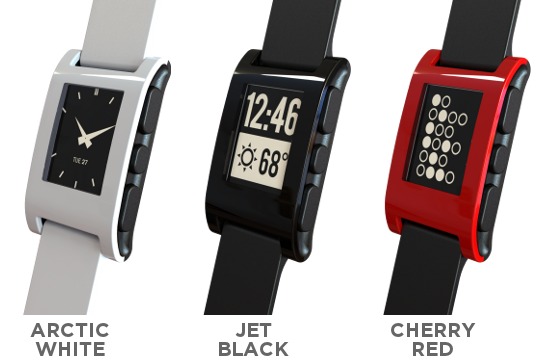 Meet Pebble, the latest smartwatch by Allerta launched in today's Kickstarter. It may be younger than their inPulse Smartwatch but it's more suited for today's technology. A huge drawback of inPulse Smartwatch was its limitation to BlackBerry and select Android handsets – namely Nexus and most Motorola phones. Pebble, on the other hand, offers full compatibility to iOS as well as Android.
Pebble has a 1.26-inch black and white e-paper display with 144 x 168 pixel resolution, capable of displaying high-resolution images and crisp text. The battery can last seven days or more on a single charge. Other specs include Bluetooth 2.1 + EDR, a vibrating motor for notifications, a three-axis accelerometer, and four physical control buttons. By installing Pebble App for iOS and Android, Pebble Smartwatch can receive calls, emails, and message notifications from either device via Bluetooth. The Android version of Pebble App only supports 2.3 Gingerbread and later though, whereas the iOS version supports iOS 5 and above.
Downloadable apps for controlling music and activities like cycling, running, and golfing can be installed on Pebble. Called "watchapps" they are installed via Bluetooth using Pebble App. For golfers, there's a rangefinder app for finding 25,000 golf courses worldwide. For cyclists and runners, there's an app for monitoring their speed, distance covered, and pace. And for everyone there is an app for controlling music on their smartphone. Watchfaces can also be installed onto Pebble for customization.
Pebble is selling for $99 at Kickstarter today. If you decide to grab the smartwatch later this year, it'll retail for $149 by then. Pebble is currently available in Acer White, Cherry Red, and Jet Black. A fourth color is currently being voted on by backers of the project. Although nothing like Motorola MOTOACTV, that actually is a good thing for average smartphone owners. Otherwise, if you are an athlete by heart MOTOACTV is still the better choice even though the cheapest model retails for $249.99.
You may check out the video below.