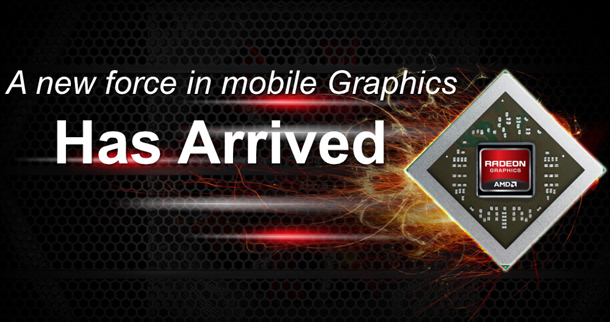 The more powerful a GPU is, the faster it drains your laptop's battery – this is an unshaken norm and something we've eventually gotten used to especially with gaming laptops where they're most needed. Today we're seeing AMD launches a new range of mobile GPUs that will change our perspective. Radeon HD 7000M are GPUs that deliver powerful performance without compensating battery life.
AMD's latest generation graphics cards are manufactured at 28nm Graphics Core Next (GCN) architecture. This type of structuring significantly increases performance-per-watt ratio compared to previous attempts. As a result, the Radeon HD 7000M series offer better power management than its predecessors. Performance is also optimized by this structure. HD 7700M, 7800M, and 7900M will be appearing in laptops soon and starting today, 7970M will be an available option for gaming laptop Alienware M17x.
Of the three, HD 7900M is AMD's flagship GPU lineup with an 850MHz engine clock, 2GB of GDDR5 memory, and 1,280 stream processors. It is capable of producing six displays simultaneously. HD 7800M is next in line and has an 800MHz engine clock, 1GB of GDDR5 memory, and 640 stream processors. You can think of the series as the HD 7900M cut in half. Lastly, there is HD 7700M with a 675MHz clock, 1GB of either GDDR3 or GDDR5 memory, and just 512 stream processors. 7700M can support up to six displays but the final number of outputs depend on a manufacturer's implementation.
AMD benchmarked HD 7970M of the 7900M series. They compared it to previous generation Radeon HD 6990M as well as NVIDIA GTX 675M. While playing Skyrim on High Settings at 1920 x 1200 resolution, 7970M scored an all-time high of 70fps in comparison to the 49.3fps of NVIDIA's GPU.
The benchmark test was performed on a Sandy-powered Intel laptop and not on AMD systems. Mind you, GTX 675M is a non-Kepler graphics card with an increased clock speed. This goes to show how superior HD 7000M GPUs are. And might I just add that HD 7800M and 7700M performed well too. Under the same settings and circumstances as the 7970M benchmark, they respectively scored 41.4fps and 36.9fps.
On top of the aforementioned improvements, the 28nm manufacturing process enables these GPUs to automatically shut down several cores to reduce power usage. They could also switch to integrated graphics intelligently. Whenever the integrated GPU is used, AMD says their new line of graphics cards will shut down completely and cut off power consumption. We're expecting to see Radeon HD 7000M series in more than 200 laptops within the year.