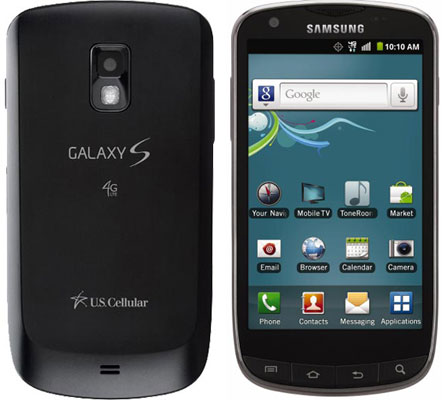 US Cellular is moving forward with LTE technology just as AT&T, Sprint, and Verizon are. After announcing their first 4G tablet a week ago, they now unveil their first 4G phone. Samsung Galaxy S Aviator is a rebranded version of Verizon's Droid Charge and therefore packs similar specs. Now let's take a closer look at it and see how it fares.
Design
Samsung Galaxy S Aviator is half an inch thick and weighs 5 ounces, making it both thick and heavy compared to recent releases. Just like most (maybe all) Samsung smartphones, it embodies that typical cheap look with its all-plastic body and glossy but easily-scratched chrome edge – save for the glass screen which uplifts its design to a more bearable state. Its bottom has a sharp curve which meets at the center, almost like a teardrop. Right below the screen are four touch-sensitive buttons: Menu, Home, Back, and Search from left to right. On the back, thickness is more concentrated on the bottom to improve grip. It becomes thinner towards the top where the rear camera and flash are located.
Specs and features
The 4.3-inch screen on Samsung Galaxy S Aviator is worth drooling on. It features a Super AMOLED Plus display equivalent to the one found in Samsung Galaxy S2. 800 x 480 pixels isn't much but brushing that aside is the high-contrast display capable of producing rich and vivid images. The 1GHz Hummingbird CPU inside the phone leaves less to desire though, especially these days when midrange phones pack single-core to dual-core processors clocked at faster speeds. Unlike Verizon's Droid Charge which shipped with Android 2.2 Froyo, US Cellular's variant runs Android 2.3.6 Gingerbread out of the box. Other specs and features of Galaxy S Aviator include:
• Dimensions: 5.12 x 2.68 x 0.46 in
• Internal storage: 828MB
• External storage: microSD slot up to 32GB
• Bluetooth 3.0 + HS
• Wi-Fi 802.11b/g/n
• 3G/4G connectivity
• Tethering
• GPS
• DLNA media streaming
• 8MP rear facing camera with autofocus and LED flash, 720p video capture
• 1.3MP front camera, VGA video capture
• Micro USB, Micro HDMI slots
• 1500mAh removable battery
Verdict
The massive 4.3-inch, 8-megapixel rear camera, and 4G connectivity give me no reason to call Samsung Galaxy S Aviator as "just another" Galaxy S variant. Rather, it is a marriage of Galaxy S and Galaxy S2 to create an affordable 4G phone with competitive specs. Galaxy S Aviator is on sale at US Cellular stores and retail outlets starting today. It comes in black and with a $199 price tag.