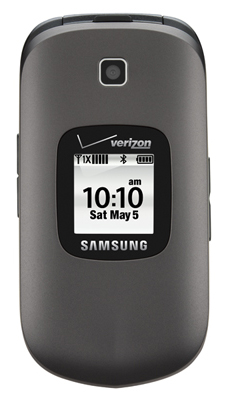 After expanding to more than 20 markets, Verizon now has the largest 4G coverage in the United States. Despite actively pursuing to replace 2G/3G technology with LTE, the network still isn't ready to let them go and that's why they announced Samsung Gusto 2 today. The newly announced handset is a feature phone and an updated to the original Gusto released two years ago.
Samsung Gusto 2 has a clamshell form factor which makes it compact and easy to carry around. When closed, you'll see an external display measuring 1.07 inches. Details like network signal, battery status, date, time, and notifications are shown in black and white here. Prop it open and you'll see the 2-inch main display. Below the main display is the traditional tactile keypad used in most feature phones. Additional hot keys are present for navigation, confirming actions, and for receiving and making calls.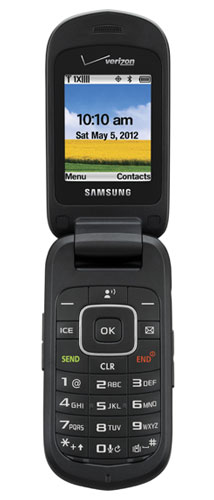 Specifications
• Dimensions: 3.72 x 1.93 x 0.75 inches
• Weight: 3.9 ounces
• Main Display: 2-inch screen (160 x 128 pixels, 262K TFT)
• External Display: 1.07-inch screen (96 x 96 pixels, 65K CSTN)
• Messaging: T9 and XT9 predictive input, text messaging, email
• Calling: Text-to-speech, Hearing Aid Compatible (HAC), TTY
• Camera: 1.3MP
• Connectivity: Bluetooth, HFP, HSP, OPP, PBAP, SPP
• Audio support: AAC, AAC+, eAAC+, CMX 4.4.6, EVRC, iMelody, QCELP, WAV
• Internal storage: 64MP
• Battery: 1000mAh (350 hours standby, 390 minutes usage)
It may be a feature phone but it won't stop you from connecting to Facebook or Twitter. Social networking is integrated into the device so you can post tweets and statuses as well as remain updated of friends. Connectivity is limited to 2G networks though. The phone is also capable of GPS and has VZ Navigator support. Included in the features is Dynamic Voice Enhancement for noise cancellation during calls.
Samsung Gusto 2 has a $79.99 price tag after the $50 mail-in rebate is sent to your debit card. It comes with a two-year contract with Verizon, available in stores in the coming weeks. The phone is only recommended for regions where Verizon isn't or doesn't plan on extending their 4G network anytime soon, as well as people who still aren't ready to embrace smartphones.