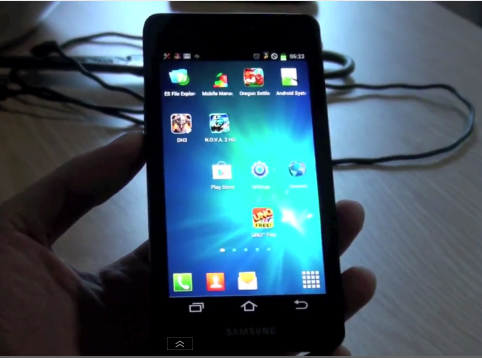 Much to everyone's dismay, Samsung's upcoming flagship phone would be an upgraded version of Galaxy S2. "It'll be like what iPhone 4S was to the 4," an unnamed source from the UK telecoms industry told CNET. If this rumor were true, we can't expect much changes on its design and hardware although we're still hoping to see it with a larger screen, quad-core processor, and an improved camera. So far, only the quad-core Exynos chip seems feasible though we doubt it would be clocked at 1.8GHz as previously rumored. Of course, it should run Android 4.0 Ice Cream Sandwich out of the box. With the nearing announcement of Galaxy S3, Samsung decided to tease us on their Denmark Facebook fan page with what supposedly is their latest Galaxy smartphone.
Samsung uploaded a photo on their Denmark Facebook fan page. At first glance, the first thing you'll notice is this blue banner which displays the date and time of Samsung's upcoming event. That's May 3, 7pm local time in London. But if you look at the far right end of the banner, you'll notice that it is in fact a piece of cloth covering a smartphone. The cloth outlines a curvier design on the edges which is nothing like Samsung Galaxy S2.
We can't make up what it's screen size will be but judging by the photo, it's still a large handset. Also, we can't tell if there's a physical menu button and touch-screen navigation buttons. Previous generation Galaxy S phones had them but Ice Cream Sandwich already has on-screen navigation.
Still, it is up to Samsung if they'll take advantage of this feature or stick to their tried-and-tested design formula. What we are skeptical of is whether or not it will be "just" an upgraded Galaxy S2 as sources told CNET. Samsung seems to have overhauled the design of Galaxy S3 and made it more curvier on the edges. That design change alone tells us it could be revolutionary device.
Along with Galaxy S3, Samsung is rumored to launch a new 10.1-inch tablet on May 3. It will have a dual-core processor instead of the quad-core Exynos chip to be placed inside Samsung Galaxy Tab 2 and Galaxy Note 10.1.
Leak: SAMSUNG GALAXY S3 IN VIETNAM