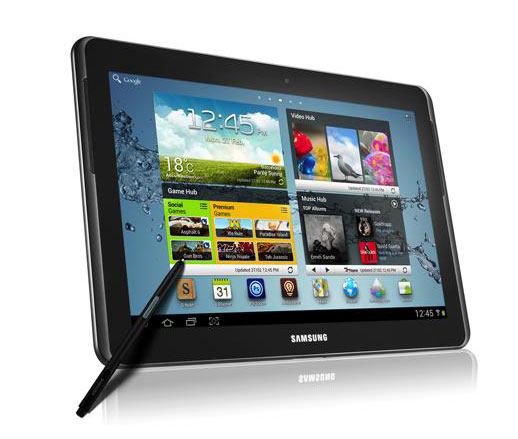 Samsung Galaxy Note 10.1 doesn't match up to the new iPad's screen resolution, battery life, rear-camera, and wide variety of storage and connectivity options. When we look at microSD support, screen size, and the dedicated stylus of Galaxy Note 10.1, odds are in its favor though. The processing speeds of both tablets are leveled by dual-core processors and quad-core graphics. But can we say the same thing now that Samsung is bumping up their offering to quad-core?
Samsung's plan to delay the launch of Galaxy Note 10.1 made headlines in Korea. According to a Korean newspaper, Samsung is pushing past its expected date of release to make way for an improved processor. From the Mobile World Congress, we learned that it had a 1.4GHz dual-core chip – an unappealing spec in a world where most of us drool over quad-core devices. The report states that this will no longer be true and that Samsung is bumping it up to Exynos 4412, the manufacturer's first quad-core chip also rumored to power the Samsung Galaxy S3. A quad-core processor and equally powerful graphics would place Galaxy Note 10.1 in the league of this year's top tablets, at least, in terms of specs.
While it's too early to tell how it will perform in real life or if it scores high on benchmarks, the bumped-up spec should give you enough reason to wait for Samsung Galaxy Note 10.1 just as we suggested. Don't get me wrong – the new iPad is great. But this Galaxy Note tablet also makes a worthy competitor not just in specs, but also with its unique features which give it an edge. It's the perfect tablet for taking notes and sketching.
Samsung Galaxy Note 10.1 is shipping this June. If Samsung pushes through with the May 22nd announcement of Galaxy S3, their flagship phone has a chance of getting released at the same time. Both devices will be the first smartphone and tablet to sport Samsung's very own Exynos 4412 if recent rumors about Samsung Galaxy S3 are true.
via MK