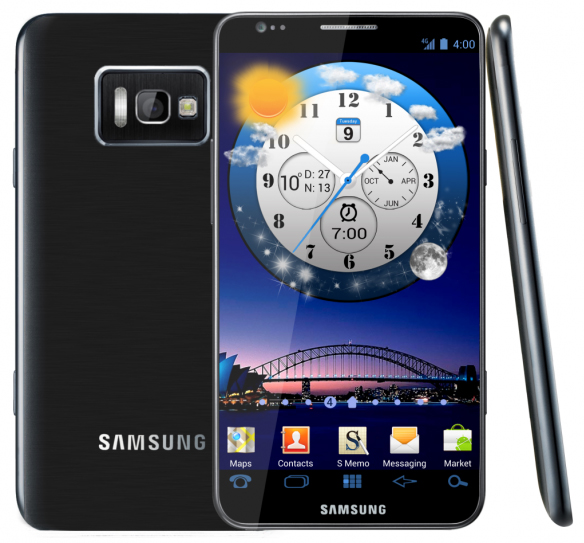 We could be weeks away from the announcement of Samsung Galaxy S III, the most awaited addition to the Galaxy line and a sequel to Samsung Galaxy S2. Chatter about Samsung's upcoming smartphone continues to spread ever since its press photo leaked online. From an 8-megapixel camera to a quad-core Exynos chip, we're giving you a roundup of Samsung Galaxy S3 and its rumored specs and features.
8-megapixel camera with HDR
German blog AllAboutSamsung says they found a photo uploaded to Picasa using a device with model number GT-i9300. Only one company comes to mind with this model number – Samsung. The possibility of GT-i9300 as the highly-anticipated Galaxy S3 is not a far-fetched idea at all given Samsung's unbroken pattern of naming devices.
The photo was taken in New York City with the title "20120308_175456_HDR(1).jpg," which hints the possibility of SGS3 having HDR capability. It also explains why the image is blurry. A Samsung employee is likely to be behind it since the picture shows a number of Samsung devices on a desk. The photo has a 3264 x 2448 pixel resolution, suggesting that GT-i9300 has an 8-megapixel camera. Still, we can't rule out the possibility of Galaxy S3 having a 12-megapixel camera since Samsung has always offered the option to switch to lower photo resolutions. Eldar Murtazin was first to create the buzz that Samsung Galaxy S3 will have a 12-megapixel HDR camera before this rumor came about.
Quad-core Exynos processor with LTE
Several rumors point to the possibility of a quad-core processor inside Samsung Galaxy S3. The sometimes-reliable Eldar Murtazin said it will have a quad-core CPU clocked at 1.5 to 1.6GHz. More recently, Korea Times confirmed that Galaxy S3 will in fact have a quad-core Exynos chip with LTE technology. "Samsung's single-chip solution is a combination of long-term evolution (LTE), telecommunications and W-CDMA functions," says an unnamed high-ranking Samsung executive.
4.8-inch full HD display and ceramic back
In addition to the massive launching of Samsung Galaxy S3 to over 50 markets, Boy Genius Report says Samsung Galaxy S3 will have a massive 4.8-inch Super AMOLED Plus HD display. BGR says they have a reliable source for this detail. The leaked press image of Samsung Galaxy S III does suggest it will have a larger screen size than Galaxy S2 but still not bigger than Galaxy Note. For those of you who loathe the cheap and plastic cover of SGS2, it is also rumored to have a ceramic back similar to the HTC One series.
via AllABoutSamsung, BGR and Korea Times