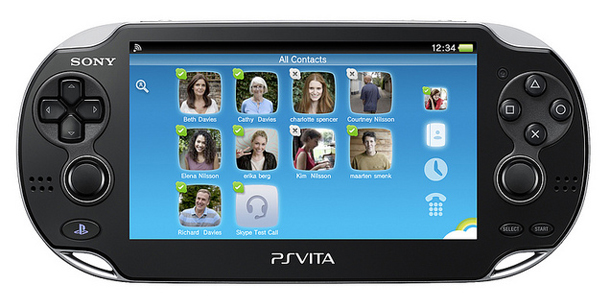 Who says you can only Skype on PCs, tablets, and smartphones? Six months after Microsoft's acquisition of Skype and barely a week after it went out of beta for Windows Phone, it can now be downloaded for game console PlayStation Vita. Sony says Skype for PS Vita works like the smartphone version of the software.
Skype for PlayStation Vita is essentially the same as the smartphone app. It allows Skype-to-Skype voice and video calls over 3G and WiFi. Users can take advantage of the front and rear cameras of PS Vita. The front-facing camera is for video calls and the rear camera can be used for showing around the room, friends, or family who are with you to the caller on the end. The interface is slightly different though and instead blends with the stock UI of Vita – which is good in my opinion.
More importantly, Skype for Vita runs in the background. That means you don't have to sacrifice playing games or use of other apps just to be notified of new messages or incoming calls. When playing games or running apps other than Skype, a discrete pop-up notification will appear to inform you about an incoming call and the game will automatically pause. Skype Senior Director Manrique Brenes wrote in a blog post "You have the capability to pause a game, conduct a call, and then return to a previous activity." He then adds that with sufficient Skype credit, you can also make low-cost calls to landlines and mobile from PlayStation Vita just like you would via PC or a smartphone.
Days ago, Skype for Windows Phone was launched. Unlike Skype for PlayStation Vita, it doesn't run in the background and isn't compatible to phones with less than 512MB or phones running Windows Phone Tango. These issues do not plague the PS Vita version of Skype. Skype for PS Vita is a free download at the PlayStation Store starting today.
via PlayStation Blog