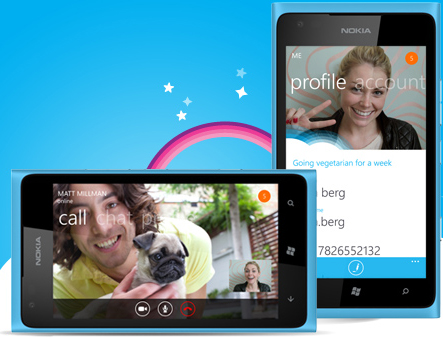 Skype 1.0 is now available for Windows Phone and we can't say we didn't see it coming. Last year, Microsoft expressed their interest in purchasing Skype. Shortly after that, they closed the deal. Six months after acquiring Skype in mid-October, Microsoft today launches the app for their own mobile platform. For an initial release, it seems promising and gives us plenty to look forward to on future Windows Phones.
Skype for Windows Phone has a different UI – and must I say, more beautiful – than its iOS and Android counterparts. It complies to the Metro UI guidelines laid out by Microsoft but there's no live tile support just yet. After all, it is an initial release. It will run on 3G, 4G, or WiFi connectivity and offers support for 18 languages in total. Microsoft says it will run on all Nokia Windows Phones including the high-end Lumia 900 and lower-end models like Lumia 610.
The app does suffer from a few hiccups. One huge drawback is that it doesn't support Windows Phone 7 Tango. Smells like the same "fragmentation" issues we hear from Android, doesn't it? Like any application, Skype has hardware requirements that devices need to meet – one of them being 512MB RAM. But because phones running Windows Phone Tango are limited to less than 512MB of RAM, they're unable to run Skype.
Another problem with Skype for Windows Phone is that it doesn't run in the background. That means if you launch the app, log in, and do something else, you won't be notified of new messages or calls and we only have Microsoft to blame for it. Windows Phone 7.5 (Mango) is simply not designed for this feature. But we're pretty sure Microsoft will fix this issue on Windows Phone 8 which is slated for release in the coming months. We're also looking into the possibility of unlimited calls and messages on next-generation Windows Phones since Microsoft will probably have Skype pre-installed in them.