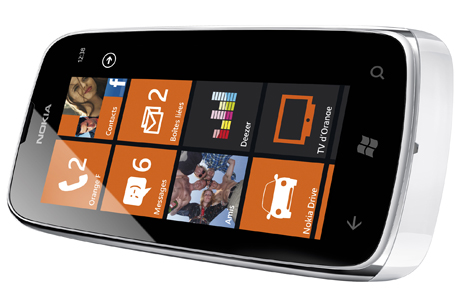 MONTE CARLO, Monaco – Prince Albert of Monaco showed up at WIMA and dropped by at the Nokia stand for a demonstration of NFC technology. Wearing a blue suit and tie, he was all smiles while talking to Nokia staff. Nokia is the official sponsor of WIMA this year. Yesterday, the Finnish company also made headlines after announcing an NFC version of Lumia 610. Aside from Prince Albert's unexpected visit, Nokia also showcased their existing line of NFC-enabled smartphones and demoed apps made for the technology.
Lumia 610 NFC isn't the first NFC-enabled smartphone that came out of Nokia. The first two – Nokia 5140i and Nokia 3220 – had nothing more than NFC shells. Three years later, Nokia released the first phone with a built-in NFC chip, Nokia 6131. Since then Nokia released a series of phones with NFC chips built into them. In order, they were Nokia 6212, C7, Oro, N9, 700, 701, 603, and 808 PureView. Nokia Lumia 610 NFC is the first Lumia Windows Phone offered by the company with this technology. Previous NFC models released by Nokia ran Symbian OS.
Lumia 610 is the most affordable Lumia phone offered by Nokia. An additional NFC chip doesn't change that fact. Nokia is bringing it first to Orange, a carrier serving more than 217 million customers in over 220 countries. "Orange will be the first operator to bring the new Nokia Lumia 610 NFC to the market," said Nokia. Availability to other markets is expected though no details were given yet.
The new NFC sensor allows Lumia 610 to pair with NFC tags and accessories in a single tap – hence, Nokia's "Tapuccino" talk at WIMA, a global event dedicated to showcasing Near Field Communication Technology. Additionally, Lumia 610 has the necessary hardware to make contactless payments with MasterCard and Visa. Both made possible by PayPass solution and payWave, respectively. "The necessary NFC hardware was added into this version of the Lumia 610," Nokia cites in their Conversations blog. Nokia also incorporated NFC software on top of its Windows Phone 7 platform to support more features like using the phone as a travel ticket.
In today's event, all these features were demonstrated to the Prince Albert of Monaco who seemed happy about it.
via Nokia Blog