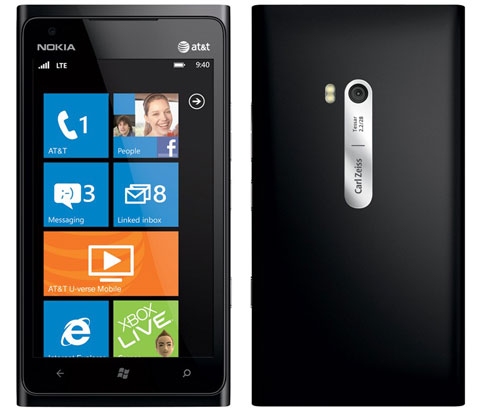 Nokia Lumia 900 hit AT&T and Microsoft stores yesterday, April 8. Even though it runs the yet-to-be-successful Windows Phone OS, it packs specs and features which make it worthy of comparison to Apple and Samsung's flagship phones. By no means is Lumia 900 perfect, but it its hardware and software are competitive enough to make it shine a little more brightly than its rivals.
Design
A first look at Lumia 900 might give you the impression it has a just-as-lovable design as Lumia 800 – but it doesn't. The latter has a tapered curve which allowed the glass display to blend seamlessly into the polycarbonate hull. Nokia Lumia 900 has a protruding display, making it a tad bit awkward to hold. The smooth texture of Lumia 800 is nowhere to be found in what is supposed to be Nokia's flagship Windows Phone. Instead, it gained a rough surface which feels less premium than its lower-end counterpart. Nokia's effort to improve phone security is evident on the new SIM card slot. The traditional slide-out drawer was removed in favor of a locked door key. Yes, you need a sliver of metal to change SIM cards on Lumia 900, which not only deter phone snatchers but occasional SIM swappers as well. Needless to say it fails terribly on these design aspects.
Not everything is amiss however. Button layout is quite good and the dedicated camera key sets it apart from competing high-end smartphones. The power button, volume rocker, and camera button are all located on the left edge but with considerable distance in between to prevent accidental pressing.
Buttons are tighter with Lumia 900 so they don't jiggle the way they do with Lumia 800. Also worth noting is the top-side positioning of the uncovered micro USB port and 3.5mm jack. Charging and headset use is no longer as challenging. The loud speaker's positioning on the bottom edge prevents blurring of sound when receiving calls and messages, a flaw of phones whose speakers are on their backs. Backside is clean and evenly surfaced, marked only by the rear camera and a discreet flash.
Specs and features
The 8-megapixel shooter is perhaps the best spec of Nokia Lumia 900. Its F2.2 Carl Zeiss lens, 28mm wide-angle focal length, and dual LED flash accompaniment places it in line with the cameras of Samsung Galaxy S2 and iPhone 4S. The intelligent sensor allows it to capture vivid images in bright environments and better quality pictures in dark places. Camera supports adjustments like white balance, ISO, and exposure. Additionally, you can tap the screen for manual focusing and snap shots. While the camera is preset to 4:3, 8-megapixel resolution, we are provided the option to capture 16:9, 7-megapixel photos. And yet the one thing which stands out the most is the dedicated camera key which takes you directly to the camera app when pressed.
We've seen better photos come out from N9 but only because it has superior image processing. The supposedly intelligent light sensor isn't too smart when taking videos, constantly adjusting to light when panning. Otherwise, recording at a standstill produces awesome 720p videos which although not quite good as 1080p video capture, is good enough for a smartphone. Fortunately, photo viewing and video playback can be done with much delight on its massive 4.3-inch screen with ClearBlack AMOLED display. 800 x 480 pixel resolution isn't really much, but Nokia's own AMOLED technology keeps the display bright and vivid.
The 1.4GHz Snapdragon CPU within its brightly-colored body appeases our need for fast processors. Also of note is its 16GB internal storage, tethering functionality, and LTE radio for 4G connectivity. Battery life is worth mentioning too, able to last 72 hours on light to moderate usage. Thought of the phone running Windows Phone Tango may not be enticing. For one, you've probably heard people discredit its user interface for being sluggish. But there were no signs of lag and stuttering on Lumia 900. Apps load quickly and experience is generally smooth. On the contrary, multitasking could be a problem with its limited 512MB RAM. Lack of support for an external SD card is also a letdown.
Verdict
Admittedly, Nokia Lumia 900 isn't a top-notch phone but a satisfying gadget for shutterbugs. It has a stylish design paired with a snappy user interface that's not only clean and simple, but elegant as well. Lumia 900 is a great phone and for $100 on-contract at AT&T, it becomes more irresistible. But even without a contract, its $450 price tag doesn't make it any less appealing.