Graphics processors can also be overclocked like central processing units. Overclocking GPUs significantly improve graphics performance by increasing the number of frames rendered per second. The main purpose of GPU overclocking is to enhance the overall gaming experience. This is particularly true for graphic-intensive games. At times, this could come at the expense of graphics cards heating up.
As you may all know, heat spells trouble on computer hardware. To prevent that you need a graphics cooler and it just so happens that Arctic launched an entire line of them. The new graphics card coolers – namely Accelero Hybrid, Accelero Xtreme 3, and Accelero Xtreme 7970 – are compatible with a wide array of GPUs including AMD and NVIDIA.
Accelero Hybrid
Accelero Hybrid incorporates liquid cooling and air cooling technologies and that makes it a hybrid. It has an 80mm PWM-controlled fan pointed towards the RAM and VRM while spinning 900 to 2,000 RPM. It also has an adjustable liquid cooling system with a heat exchange radiator module and 120mm fan blowing at rates of 400 to 1350 RPM. According to Arctic, Hybrid improves the stock temperature of GTX 680 and that it works on the two or three recent generations of AMD and NVIDIA graphics cards. It will be available in stores beginning May 29 for $180.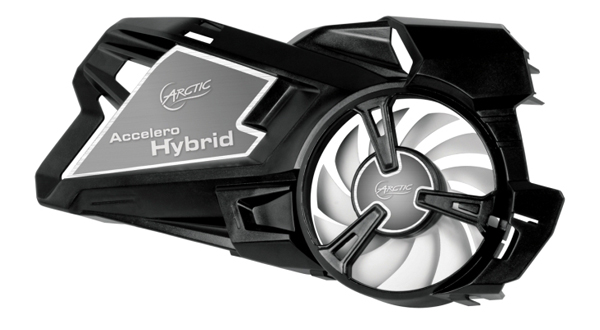 Accelero Xtreme III
A cheaper alternative to Accelero Hybrid is Xtreme III. It is purely an air cooler featuring three 92mm PWN fans as well as an 84-fin heatsink and five copper heatpipes. So long as its fans run 2,000 RPM, Accelero Xtreme 3 can reduce the temperatures of NVIDIA GTX 680 by up to 20 degrees more than stock fans. It is also compatible with several generations of both AMD and NVIDIA graphics cards except for the Radeon 7900 card series. Xtreme 3 is arriving on May 21, one week before Hybrid hits stores.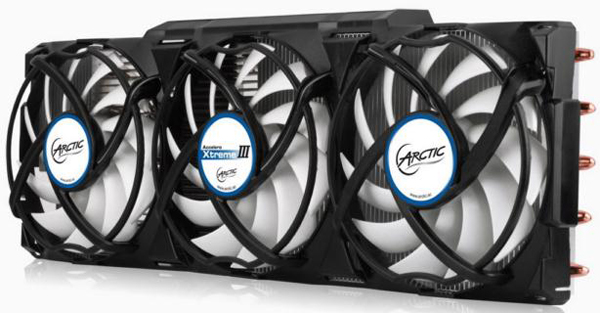 Accelero Xtreme 7970
Xtreme 7970 is the only graphics cooler launched from the series that's compatible with Radeon 7900 and 7800. It has the same design as Xtreme 3 except it sells cheaper. It has been available since May 5 for $98, making it the most affordable option from Arctic's new line of GPU coolers.