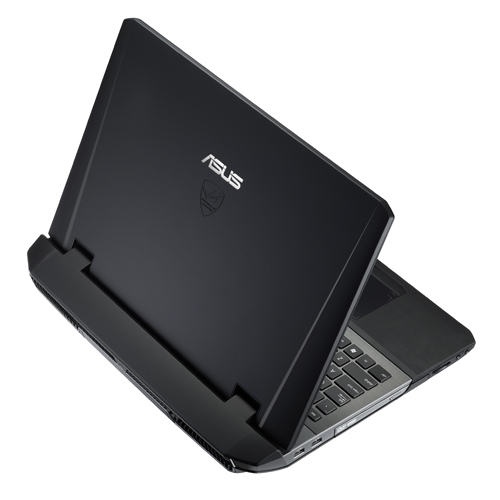 Alienware and Origin PC are the first two brands that come to mind when looking to buy gaming laptops. Both are known for piecing together hardware from different manufacturers, just so they can create the best. Of course, these specifications come at a price – literally. Alienware and Origin PC gaming laptops are unreasonably expensive options. Asus is an overlooked player in the same field and now, they're set to compete against these two biggies with G75VW-AS71. Asus G75VW is a 17-inch gaming laptop with Core i7 Ivy Bridge and a dedicated NVIDIA graphics card. It is by no means a lousy competitor and puts up a good fight. Unlike Origin EON17-S and most of its Alienware counterparts, it's far more affordable at US $1,499.
Design
Asus G75VW is a beast. The machine weighs 4.5kg. To put you in perspective, newborn babies have an average weight of 3.2kg. That makes G75 equivalent to the weight of one fat baby. Even though it weighs like one, you won't be fond of placing this monstrous gadget on your lap. It's preferable to keep it on a desk especially during long hours of gaming. Believe it or not, Asus G75 is actually thinner compared to last year's G74. It measures 52mm at its thickest point compared to 64mm of G74.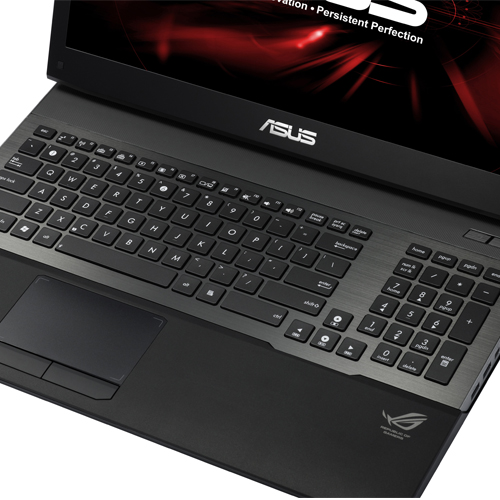 Despite all these bad things we had to say about its design, G75VW has an interesting design – and I mean that in a good way. It has a unique hinge-forward screen which folds towards the thinnest end of the laptop. The hinged screen conceals a large exhaust with a race car-inspired design.
Given its size, the interior has enough space for a full-sized keyboard, power button, some quick-launch buttons, a larger-than-usual touchpad, and some status indicators. Keys are raised, backlit, and far apart from each other. There's a lot of space on the palm rest too, making typing a more comfortable experience. The keyboard spacing comes in handy when using keys to control character movement in first-person shooter games. The touchpad has a matte surface which provides good traction and doesn't collect that much smudges.
Hardware
Generally speaking, Asus G75VW is a hit-and-miss in the hardware department once when compared to desktop replacement laptops of the same calibre. Its advantages include having separate VGA and HDMI ports, four USB 3.0 ports, Thunderbolt, and a Blu-ray optical drive. Its competitors are limited to either VGA plus HDMI or DisplayPort (video), two USB 2.0 and two USB 3.0 ports (data transfer), and DVD burners (optical drive). The only disadvantage of G75VW is its lack of eSATA data support. All other specs like stereo speakers with subwoofer, headphone/microphone jacks, Ethernet, 802.11n WiFi, and Bluetooth are at par with its competitors.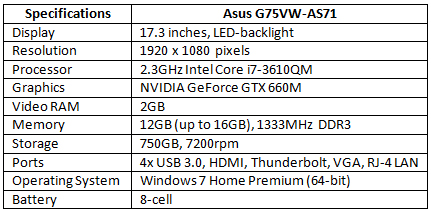 The display features an anti-glare coating which doesn't affect the screen brightness or viewing angles in any way. Watching Blu-ray movies on Asus G75VW shows off its above average screen resolution. When using the loud speakers for gaming or playing videos, audio quality is quite good.
Performance and battery life
Asus G75 isn't the best-performing gaming laptop but it comes second to Origin EON17-S in several benchmarks including multimedia multitasking, Adobe Photoshop CS5 image processing, Apple iTunes encoding, and real-world tests on some games. EON 17-S has the more powerful Intel Core i7-3920 XM and . Compared to Asus G74 from last year, the processor performs 20% better in multitasking. A battery life of 2 hours and 60 minutes in continuous video playback may seem diminutive but it's a better-than-average performance in replacement desktop standard.
Verdict
Asus G75VW isn't the best 17-inch Ivy Bridge gaming laptop but it has satisfying specs and above average performance – all for the price of $1,499. That's a relatively cheap price to pay for a gaming laptop. On top of that, it has longer battery life than most laptops. If you love gaming but unwilling to splurge more than $3,000 on a laptop, Asus G75 makes a good choice. It sells for half the price without much sacrifice on hardware.