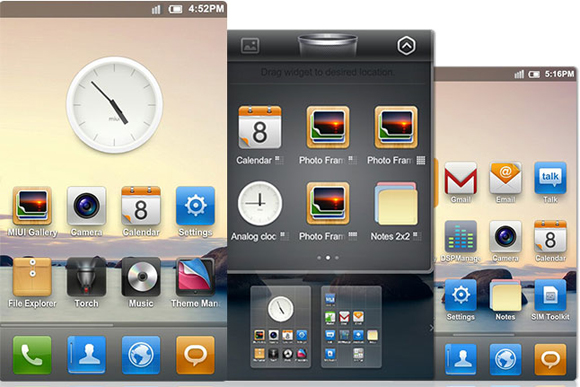 One benefit of installing custom ROMs on your Android is the replacement launcher. It's not true for all but most custom software have one. Home launchers change the look and feel of a phone's Homescreen and Apps Drawer. In case you're unaware, flashing custom ROMs will break the warranty of your device but there are alternatives. Home Launchers are available as free or paid downloads at the Google Play Store and the internet and they won't affect phone warranty. If you happen to fancy MIUI, its launcher can now be installed on all Android devices running Ice Cream Sandwich.
The only way to get your hands on the CM9 launcher would be to install Cyanogenmod 9 itself. Luckily for CM9 fans, a slew of app developers mimicked the CM9 launcher. But with MIUI, the story is entirely different because no dev managed to port its launcher to Android devices – until today that is. The official MIUI launcher is now available for download at XDA and brings much more than one might expect.
What's included
• MIUI Homescreen
• MIUI Lockscreen
• MIUI Launcher Settings
• Themes – they work!
Reminders
• Installing MIUI launcher won't break your warranty
• Compatibility is limited to devices running Android 4.0 Ice Cream Sandwich
• Download and install Home Manager (free) from the Google Play Store for easy selection of home launchers.
How to install MIUI Launcher .apk on your phone
1. Download the MIUI launcher .rar file from this link.
2. Unzip downloaded .rar file. Transfer the extracted .apk file to your phone.
3. Allow installation of apps from "Unknown Sources" on your phone.
4. Go to the files and look for the MIUI launcher .apk file. Click to install.
5. After install, set it as your primary launcher. You now have MIUI launcher installed on your phone.
You can change themes by selecting "Themes" from the Home Screen. Themes can also be downloaded there. Users have more than 8,000 themes to choose from online. If you want to switch home launchers, launch the Home Manager we asked you to download earlier from Google Play. It lets you set and switch default launchers easily.