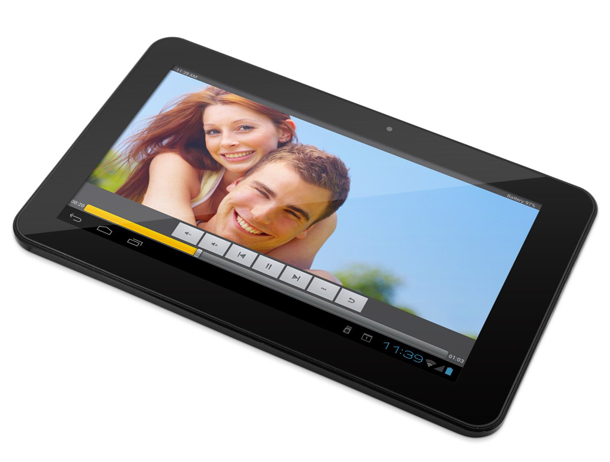 As if we haven't had enough of cheap slates, Ematic came up with yet-another affordable option for the saturated market of Android tablets. They launched eGlide XL Pro 2 today, a 10-inch tablet running Android 4.0 Ice Cream Sandwich. "We're thrilled to launch the eGlide XL Pro 2, and add it to our expanding line of tablets which suit various needs and lifestyles," said Ematic General Manager Roy Rayn. "This tablet incorporate everything our consumers love about Ematic products: durability, productivity, and affordability", he added.
According to the press release, eGlide XL Pro 2 will have a 10" capacitive touch screen featuring a "crisp, clear display." It supports 1080p video playback via its HD video player – much like Archos Arnova 10. 1080p videos and games can be mirrored to compatible HDTVs through the HDMI output. Powering the device is a 1GHz processor and 400MHz graphics card. We're not sure if it'll be a single-core or dual-core CPU. Another letdown is the 4GB onboard memory and just 5GB of free cloud storage. If you need more space, there's a microSD card slot for up to 32GB of extra storage. 1GB of RAM should facilitate smooth multitasking and intensive games. Android 4.0 Ice Cream Sandwich comes preloaded into the slate, along with several other apps.
One of the few apps pre-installed in eGlide XL Pro 2 is the Ematic App Shop. It grants users access to the latest apps primarily news readers, games, and social networking apps. Another pre-installed app is the Kobo eReading application where you can buy eBooks as well as get some for free. Built into the slate is the Ematic Digital Assistant & Navigator (EDAN) which acts as a virtual assistant. It makes use of voice-to-text technology in helping you out with restaurant locations, movie schedules, dictating emails or messages, and all other things you wish to do with the slate hands-free.
eGlide XL Pro 2 will have a three-axis gyroscope and accelerometer for full 3D rotation among other things. It also gets a front-facing camera and a voice recorder. You can use it to connect to a WiFi network for browsing the web among others.
via Android Guys