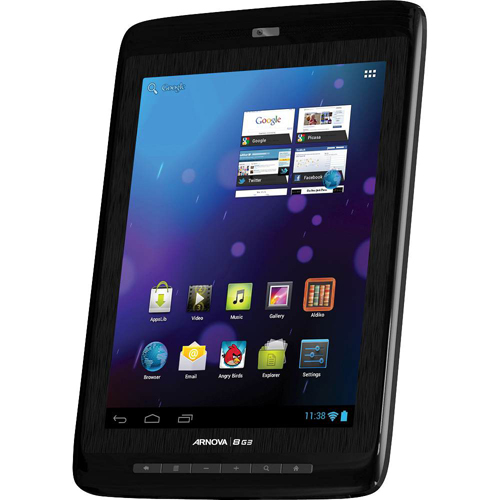 Archos is known for releasing media-centric Android tablets for a higher price. The last model they released was Child Pad, a 7-inch which doubles as a child-proof baby sitter. Today the manufacturer detailed a new line of tablets, Arnova G3. The Archos Arnova G3 series features customized software, large hard drive options, and will sell for a much lower price than previous releases.
Archos Arnova 10B G3
10B G3 is the largest slate from the line-up. It has a 10.1-inch screen with 1024 x 600 LCD display. It is powered by a single-core 1GHz Rockchip 2918 processor, a spec which doesn't seem fit for a tablet with this screen size. But it does have 1GB RAM enough for multi-tasking and smooth transition. 10B G3 will have internal storage of 8GB, full HD playback via HDMI-out, and will run Ice Cream Sandwich out of the box. The price? A measly $200 for these satisfying specs.
Archos Arnova 9 G3
Arnova 9 G3 has a 9.7-inch screen like the new iPad. Display has a 4:3 ratio with IPS panel for wide-angle viewing. Screen also supports 5-point multi-touch. It still has the same 1GHz single-core processor and 1GB of RAM as the 10.1-inch model. The 4GB model is selling for $199.99 and this higher value can be attributed to its denser, higher-resolution display.
The Arnova G3 series will also be available in 7-inch and 8-inch models but they're yet to be detailed by Archos. Both tablets will probably cost less than $200. Last week, Gemini Devices released JoyTabs 7, 8, and 10. These slates come in 7-inch, 8-inch, and 10-inch models and range from $200 to $300. The G3 series is significantly cheaper but specs-wise, JoyTabs pack more powerful hardware. All three are running Android 4.0 Ice Cream Sandwich too. A day before that, XTex announced MyTablet 7, a 7-inch ICS tablet selling for $150. MyTablet 7 actually has decent specs even though it's selling for a low price.