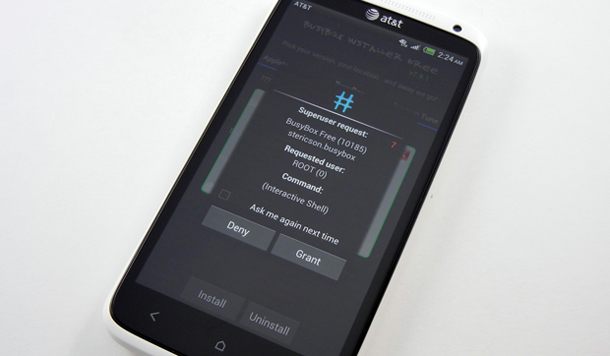 Why am I not surprised. You can now root HTC One X in one click and I'm not just talking about its international, Tegra 3 version. HTC One XL, the Snapdragon S4 variant available via AT&T and Rogers, can also be rooted with the same process and we have kennethpenn of XDA-Developers to thank it for. The process is quick but can be scary for first-timers. As a one-click rooting option, it's fairly easy to perform. Windows, Mac, and Linux users can perform the rooting process on both HTC One X and HTC One XL. It is going to root the phone, install Busybox, and install SuperSU for granting and denying root access to apps. Be reminded that this process will break your phone's precious warranty. So think twice before you continue on.
What are the benefits of rooting HTC One X and HTC One XL?
HTC One XL (Rogers) and HTC One X owners can enjoy the benefit of installing custom ROMs once they've rooted their phones. Unfortunately, owners of HTC One XL (AT&T) won't be enjoying the same benefit because of the locked bootloader on their phones. If it makes any difference, granting root access means you can backup apps and data, uninstall system apps – aka "bloatware – and underclock/overclock the CPU. These advantages will be universal to any HTC One X that gets rooted.
Prerequisites
1. At least 60 percent of battery life on your phone.
2. When using a laptop, make sure it is fully charged or keep it on AC mode to avoid interruption of rooting process.
3. Download and install HTC mobile phone drivers (for Windows)
How to root HTC One X (AT&T, Rogers, and others)
1. Download root.zip file.
2. Extract the downloaded file from step 1. Three files should come out of it the extraction process: root.bat / root-linux.sh / root-mac.sh
3. Enable USB Debugging on your HTC One X by going to Settings > Developer Options > USB Debugging > (Check)
4. Plug in your device to the computer via USB. If you have a desktop PC, we recommend plugging it to a port located on the back.
5. Run the script on your computer by selecting root.bat (Windows), root-linux.sh (Linux), or root-mac.sh (Mac)
6. After the process is complete, your HTC One X will reboot a couple of times – this is normal. In the end, your phone will reboot one last time and you will have full root access by then.
via XDA Developers