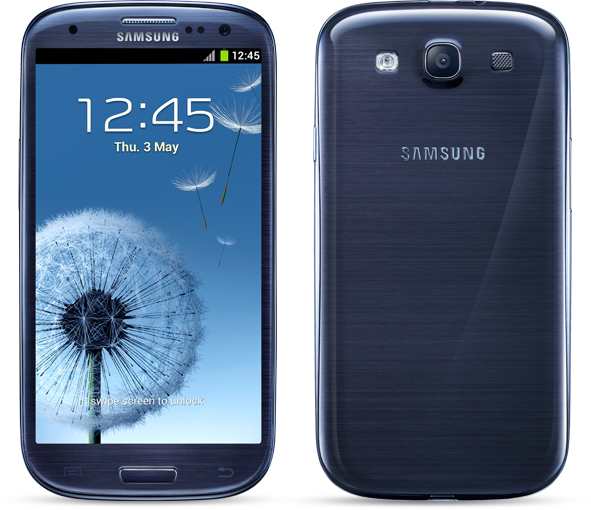 Device specifications of Samsung Galaxy S3 are out, confirming and debunking rumors that have been going on for months. Some turned out to be true, others not – and there are those who missed the target by a little.
Overall specs and design
An unnamed source called out the Samsung Galaxy S3 as nothing more than an update to the Galaxy S2. "It'll be like what iPhone 4S was to the 4," he told CNET. But we now know this isn't all true. Judging by its design, hardware upgrades, and features, the device takes a big leap from its predecessor. But there are a few specs that let us down and not much different from GT-i9100.
Screen size
In so far as screen size goes, one rumor did point to a 4.8-inch screen. Others said it will have 4.7 inches and some believed it would be 4.6 inches at most. Today's announcement of Samsung Galaxy S3 at London confirms that it will have a 4.8" HD Super AMOLED display just as BGR reported. Screen resolution is 1280 x 720 which is significantly higher than the 480 x 800 pixels of Galaxy S2. Pixel density is also bumped up to 306ppi from 217ppi of SGS2.
Software
It was never rumored but everyone assumed that Galaxy S3 would run Ice Cream Sandwich since it is Samsung's flagship phone. Of course, this ended up to be a fact. The phone will run Android 4.0.4 Ice Cream Sandwich.
Camera
The rear camera has 8 megapixels, autofocus, and is accompanied by a LED flash. A tasteful addition is Zero Shutter Lag, a feature of Android 4.0 Ice Cream Sandwich. No 12MP shooter with HDR feature though as previously reported.
Processor
Samsung already confirmed the rumor that it will be powered by a quad-core Exynos chip last week. What we didn't know was what speed it'll be clocked. Eldar Murtazin said it would be clocked anything between 1.5 to 1.6GHz. One rumor went as far as 1.8GHz. In reality, the Exynos 4 Quad inside SGS3 is clocked at 1.4GHz. It's not disappointing considering that SGS2 was limited to a dual-core 1.2GHz processor. At the time of its release, dual-core processors were a standard to high-end phones.
Word has been going around that different versions of the phone will be sold. The US market in particular is rumored to get a Snapdragon S4 variant, just so it would be compatible to local 4G networks. Samsung partly confirmed this and said they're shipping LTE variants to the US, adding they'll also get an HSPA+ version. According to the press release, specifications will vary for the LTE and HSPA+ variants.