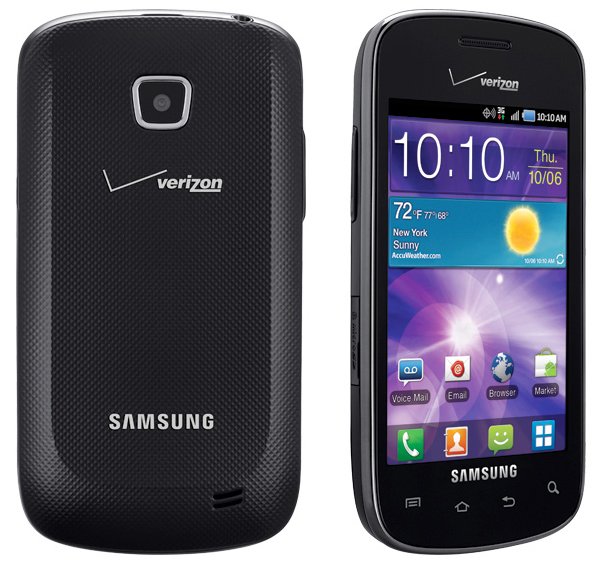 Verizon introduced their new $80 prepaid plan on a new phone – Samsung Illusion. The phone will be available beginning May 1, Tuesday. The midrange handset may not have a "wow" factor but the plan that comes with it sure is interesting. As of now, Samsung Illusion is the only phone Verizon offers with the plan.
Samsung Illusion is tiny – at least, compared to most Android smartphones – and has a 3.5-inch HVGA screen with 320 x 480 pixels. It runs Android 2.3 Gingerbread and is powered by a single-core 1GHz processor. It has 2GB internal memory, space for 32GB of expandable memory, and a 3-megapixel rear-facing camera. The phone sells online and at Verizon stores beginning May 1 for $169.99. Within weeks it should hit branches of Best Buy, Radio Shack, Target, and Walmart across the US. The $80 monthly plan which bundles with Samsung Illusion includes unlimited calls, text, and 1GB of mobile data.
Please note, that only 3G mobile data is offered with the plan, limiting subscriptions to the very few 3G smartphones of Verizon – think DROID Incredible 2 and Samsung Illusion. It may not be offered for 4G devices though.
$80 may not sound like a good deal unless you plan to use it for heavy communication. But you have to remember, most plans tie you to a two-year contract and because it is a prepaid option, there are no commitments with this one. You are free to subscribe and drop the plan anytime you wish. Aside from the $80 prepaid plan, Verizon finally announced the availability of Jetpack 4G LTE hotspot. The device will cost you $129.99 and will be available at Verizon stores first also beginning May 1, followed by Best Buy, Radioshack, and Walmart retail outlets over the coming weeks.
Additionally, hotspot plans were announced with the availability of Jetpack. These plans start at $15/week for 250MB of data, $30/month for 3GB, and so on.