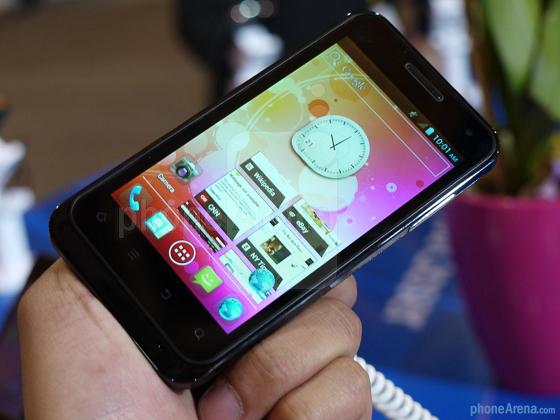 In addition to the 10-inch V96 tablet, ZTE showcased Nova 4.0 V800 at the CTIA 2012. The device is a smartphone and mostly has midrange specs, though some high-end hardware got tangled up inside it. ZTE representatives say it's headed for Cricket Wireless within the year but the carrier hasn't confirmed it yet. If this holds to be true, it will be one of the few handsets coming to Cricket running Android 4.0 Ice Cream Sandwich out of the box.
Nova 4.0 V8000 isn't an eye-catcher. The smartphone looks pretty "normal" with its typical black slab appearance. When facing front, its top part resembles iPhone 3GS but if its bottom part looks awfully like an HTC phone because of the large bottom bezel. For navigation, you have to rely on four touch-sensitive controls below the display. It's an odd count for touch-sensitive buttons on a phone running ICS but it's not all bad. Knowing where to find the menu button each and every time is a relief for everyone.
ZTE was kind enough to give V8000 a 4-inch screen but they were not so generous on its display. Screen resolution is a measly 800 x 480 pixels. Even worse than this spec is its processor – a single-core Snapdragon S2 processor clocked at 1.4GHz. Internal storage is limited to just 1.1GB, a lack that's almost incomprehensible. If you want extra storage, you'll have to rely on the built-in microSD slot for expandable memory. Also worth noting is the 1900mAh battery inside the phone. If we consider its screen size (and resolution), processing power, and near-stock Android UI, this phone should last a full day on moderate usage. The demo unit available at the CTIA Wireless Trade Show was slick but nothing interesting was going on either. The specs list said it has "HD Voice" technology. Whatever that means, we are yet to find out.
Spec-wise, ZTE Nova 4.0 V800 will be a direct competitor to Huawei Mercury which has the same screen size and processing power. Unlike Mercury, it ships with ICS front-and-center. Between the two however, Huawei Mercury is more good looking and unbelievably looks premium despite its average specs. Cricket subscribers will probably be given the option to subscribe to Muve Music with this device.
image source: PhoneArena