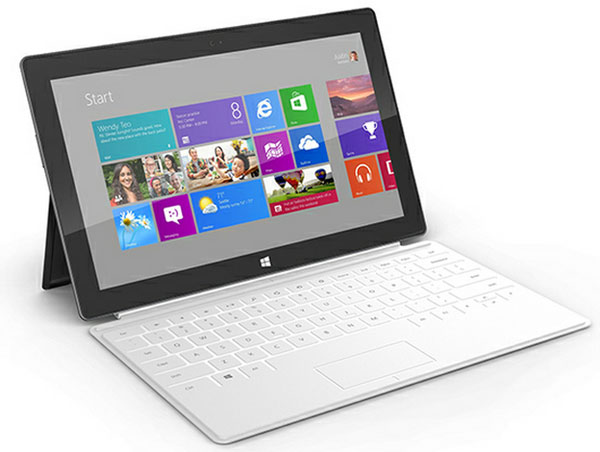 It has been a pretty eventful year on the tablet market so far, what with manufacturers releasing the first quad core tablets, Apple having rumors about an iPad Mini and other news. But one of the most interesting news was Microsoft's announcement of the Windows 8, Windows RT operating systems and the accompanying Surface tablets.
While the Windows RT powered Microsoft Surface is a very interesting device, its brother, the Surface Pro, is definitely on par or even better, especially when it comes to the hardware. This tablet is the next thing in x86 tablets and it also doubles as an evolution to the Ultrabook, bringing the best of both worlds in one attractive package.
Design
Just like the Surface, the Surface Pro has a very attractive slim design – like Microsoft says, "we've sucked all the air out". That definitely shows – the tablet is very thin and weighs 903 grams on its own, which is very impressive. The housing is made out of a magnesium alloy, and the front is covered by a strong Gorilla glass that is sure not to scratch even when used in the field.
The overall size should be a bit larger than the usual 10.1 inch tablet thanks to the unique 10.6 inch display that is exclusive to the Surface tablets – they still have a 16:9 form factor, though. The keyboard dock is pretty impressive – it's only 3mm thin and it's still very useable, with the keys having a decent travel that you can feel. It also comes in different colors, but they're all too acidic in my opinion – the black version looks best to me.
Hardware features and performance
The hardware features of the Surface Pro are quite impressive for a tablet. Being an x86 device, it's only natural that it's powered by an Intel processor, but unlike so many Windows slates that are currently on the market, it doesn't use an Atom processor. Instead, Microsoft will be equipping the Surface Pro with an ULV Core i5 processor, which should be more than enough for pretty much any regular apps (especially Metro apps).
There's also going to be 1024 or 2048 GB of onboard RAM and a 128 GB SSD for the best performance. The integrated Intel HD Graphics 4000 GPU takes care of the graphics load, and the tablet has two cameras, USB 3.0, all the necessary sensors, Wifi N, Bluetooth 3.0 and a large battery to keep it working for over 6 hours.
The display is the most interesting point, though: it's a unique 10.6 inch IPS unit with a 1920×1080 resolution – not quite Retina Display, but very close. It's obviously better than the 1280×720 pixel screen used on the Surface, and it should play well with Metro UI – not so sure about the regular Windows desktop, since DPI scaling was never good in Microsoft's OS.
Technical specifications
| Specifications | Microsoft Surface Pro |
| --- | --- |
| Display | 10.6 inches, 1920×1080 pixels |
| Processor | Intel Core i5 Ivy Bridge, dual core |
| RAM | 1024 MB |
| Graphics Adapter | integrated Intel HD Graphics 4000 |
| Storage Space | 128 GB built in SSD |
| Camera(s) | Dual camera setup, detailed specs as-of-yet unknown |
| Connectivity Options | USB 3.0, Wifi N, Bluetooth 3.0, GPS |
| Sensors | Gyroscope, accelerometer, light, magnetometer |
| Battery | Li-Ion, 31.5 W/hr |
| Dimensions and weight | Dimensions not yet revealed; 903 grams |
| Operating System and Software | Windows 8 Professional |
Software
The Microsoft Surface Pro will run Windows 8 Pro, obviously, and thanks to the new Metro user interface, it's going to be great for both tablet and laptop use. While the apps marketplace still hasn't taken off, it's going to get the most popular apps sooner or later, but until then you can easily use the desktop or browser versions of any software or services you want. And since this is the x86 version of Windows, you're pretty much guaranteed excellent compatibility with legacy apps and any software you're used to on your desktop computer.
Price and Availability
There's no word on the pricing of the Surface Pro, but you can be sure that it will be expensive – the Windows RT powered Surface is the budget, consumer model, while the Surface Pro will be aimed at professionals and business users. The price should be relatively low, though, according to Microsoft, and the tablet should hit the market sometime this fall – we'll see how it's received and how it fares then.