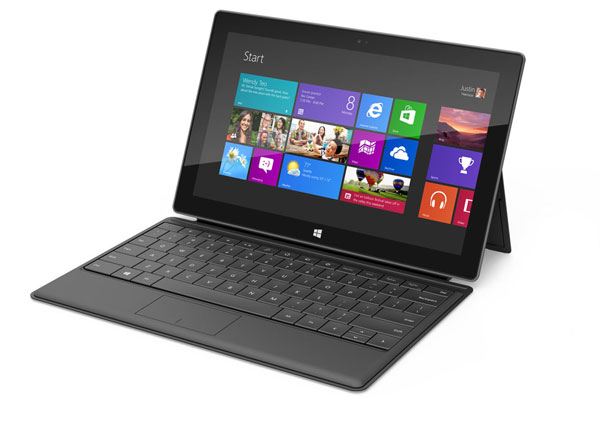 The tablet market is pretty much dominated by iOS and Android when it comes to the software, and even though HP and RIM have tried to break through with their own products, they failed miserably and will probably not try again for at least several years. But there's one giant who'd really love to get a piece of the pie and has the resources to actually do it – Microsoft. Their Windows Phone 7 operating system for smartphones is quite good, and the newer Windows Phone 8 is supposed to be much better.
But the bigger news from Microsoft is that they're also entering the consumer tablet market with Windows RT, the much rumored ARM version of Windows 8, and the first tablet to run it will also be produced by the company themselves – the Microsoft Surface (not to be confused with the big Surface table) looks like an awesome device specs wise, but can it deliver what the consumers want?
Design
I gotta say, the design of the Surface tablet is really impressive. The device is only 9.3 mm thin and yet it feels very solid thanks to the magnesium alloy housing. The front is fully covered by a darkened glass that protects the display from scratches and provides the touch functionality, while the back has pretty much nothing but the Windows 8 logo and the camera – although that might change in the final release. Overall, holding and using the device is a great experience. The smart cover accessory is also very well made, although the keyboard isn't the best one around – but that is understandable seeing as it's only 3mm thin.
Hardware features and performance
There actually isn't that much that we know about the internal hardware of the Surface tablet – at least not the final version, anyway. All we know is that it will be using an ARM processor, most likely NVidia's quad core Tegra 3, which will be teamed up with 1024 MB of RAM and 64 GB of onboard storage space. These hardware specs will also be imposed on any manufacturer who wants to release a Windows RT tablet, by the way, which is a good way of keeping the platform at a high level, as Windows Phone 7 smartphones have already demonstrated.
The other specs are also yet unclear, but we know that the Surface tablets will have a full sized USB 2.0 port, Bluetooth and Wifi (obviously), GPS, all the standard sensors and a relatively large 31.5 WHr battery that should last well over 8 hours of use if current quad core Android tablets are any indication.
Technical specifications
| Specifications | Microsoft Surface |
| --- | --- |
| Display | 10.6 inches, 1280×720 pixels |
| Processor | NVidia Tegra 3, quad core |
| RAM | 1024 MB |
| Graphics Adapter | GeForce ULV, 12-core |
| Storage Space | 64 GB built in storage space |
| Camera(s) | Dual camera setup, detailed specs as-of-yet unknown |
| Connectivity Options | USB 2.0, Wifi N, Bluetooth 3.0, GPS |
| Sensors | Gyroscope, accelerometer, light, magnetometer |
| Battery | Li-Ion, 31.5 Wh |
| Dimensions and weight | Dimensions not yet revealed; 9.3 mm thickness, 676 grams |
| Operating System and Software | Windows RT |
Software
Windows RT is almost a mythical beast at the moment, but everything will be revealed soon as Microsoft will be officially releasing the operating systems this October or November. So far, we know that Windows RT is an ARM port of Windows 8, and as such, will have most of the core functionality, including a fully functioning file system and even a basic desktop-like interface (and even a command console!) alongside the Metro UI, which will be the main user interface. The Metro apps are few and far in between, but their number is growing steadily – there should be enough of them when RT tablets finally come out.
Price and Availability
Despite Microsoft saying that Windows RT tablets will cost as low as $300, we're pretty sure that doesn't include the original Surface tablet – this device is too well made with expensive materials and technologies to be that cheap. It's more than likely that the Surface will start selling at around the same price as the iPad 3, Asus Transformer Pad Infinity and other high end tablets, despite the young the OS. Whether that will be a good or bad thing remains to be seen – Microsoft will be releasing the tablet by the end of fall, so it's not a long time to wait.