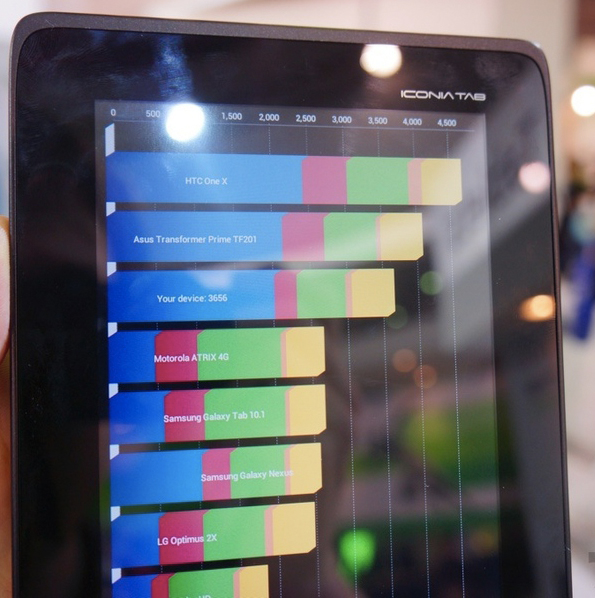 Acer unveiled four tablets at this week's Computex Trade Show but Iconia Tab A110 stands out. It doesn't run Windows 8 like Iconia W700 and W510 did. It doesn't have a 10.1-inch screen like Iconia Tab A210. What it has is a 7-inch display and a $200 price tag. It's not as cheap as the rumoured Google Nexus tablet but it's definitely affordable.
Acer did a splendid job designing CloudMobile. Sadly, Iconia Tab A110 doesn't have the same award-winning design. In fact, that would be an understatement since it looks like a plain Jane. Like most Android tablets, the slate has a wide bezel surrounding the display and there are no buttons up front – not even capacitive ones. The tablet is rather chunky as it measures 11.4mm in thickness. One thing we do like about it is its back. The grey back cover has a matte finish that's resistant to scratches and fingerprints alike. The back really feels nice to hold and gives it a premium feel even though it's an affordable option.
Its solid build quality is complemented by several notable specs. For instance, it will be powered by the quad-core Tegra 3 processor and have Ice Cream Sandwich as its OS. A gigabyte worth of RAM is also a healthy spec worth mentioning. And while we've seen better screen resolution on others, 1280 x 800 pixels on a 7-inch tablet isn't bad at all. The interface is barely skinned for that near-stock ICS experience. It also features HDMI connectivity through its micro-HDMI port. Other specs of Acer Iconia Tab A110 include a rear-facing 5MP camera, a 2MP camera on the front, 8GB internal memory, and a microSD card slot for expandable memory.
Acer Iconia Tab A110 is a sweet deal for $200. We've seen cheaper slates like XTex My Tablet 7 as well as same-priced models such as JoyTab 7 but most of them give up either design or hardware – usually, the aesthetics suffer. A110 has a slight advantage since it has a good design and packs powerful specs. It will be available sometime between July and September this year.
image source: TheVerge