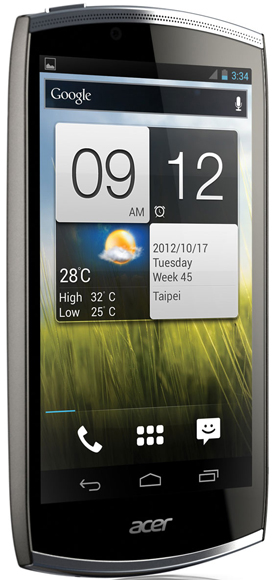 CloudMobile is Acer's flagship device for 2012. While it doesn't necessarily compare to Samsung Galaxy S3, HTC One X, and the rest of the gang, most of its specs will satisfy hardware-hungry junkies. It's really a great phone and while Acer is basically new on the scene, CloudMobile is pretty impressive.
Design
First time I laid my eyes upon it, I couldn't stop staring. And I mean that in a good way. It was even recognized as Best in Design at Computex 2012 and I'm not going to argue with that. Its longer sides are flat but the top and bottom edges have prominent curves. The back also has a slight curve to it, making it comfortable to hold. The phone looks and feels premium which is befitting of its specs. It's not the thinnest or the lightest but it certainly is slim and light enough to hold on to.
The phone doesn't have the traditional set of capacitive buttons. Rather, it has the same navigational buttons integrated to Ice Cream Sandwich. The three capacitive buttons for Back, Home, and Apps Drawer are located on the bottom bezel of the phone, right above the Acer logo.
Hardware
Acer CloudMobile has a large 4.3-inch screen. If you're not comfortable with behemoths like Samsung Galaxy Note or any other smartphone nearing the 5-inch mark, you can consider getting one. Apart from a generous screen size, the IPS LCD display has 1280 x 720 pixels and allows wide viewing angles. Also worth mentioning is the screen's pixel density. At 342 ppi, images, videos, and text are decisively crisp and pleasing to look at. The dual-core 1.5GHz processor inside CloudMobile is also of note. It is accompanied by 1GB worth of RAM. Given these two variables, you can expect performance and multitasking to be slick and smooth on this phone.
On the back you'll find an 8MP camera with LED flash. It features autofocus and doubles as a camcorder. There's a microUSB port for mass storage and charging. Like any smartphone, Bluetooth and WiFi connectivity are also part of the package. Acer CloudMobile only has 8GB onboard memory but you can expand it further with the available microSD slot.
Software
A barely-skinned version of Android 4.0 Ice Cream Sandwich is preloaded into CloudMobile but even more interesting than that is the main feature of this device – cloud storage. Acer Cloud, a new cloud service by Acer, is integrated into the device's software. It doesn't offer permanent online storage. Rather, it will sync all your files to your computer. The service includes access to 30 days worth of cache, a feature most useful for accessing recently taken photos even if your PC is not online.
Verdict
Acer may be a new player in Android smartphones but it is not to be overlooked. CloudMobile is a statement of that. The phone has everything you will need from an Android including a large screen with HD resolution and crisp display, a powerful processor, healthy RAM, a good camera, and the latest software. Considering that besides these, it has a great design and integrated cloud storage, how could you say no? I say you give it a go because it will be worth every penny.