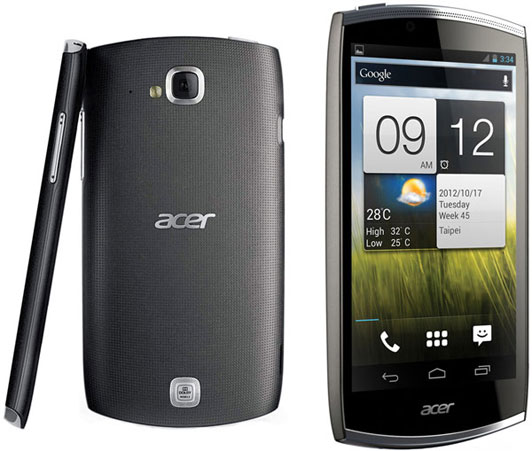 Acer is not the first company you think of when it comes to smartphones, but they're definitely making progress on the mobile market. Their Iconia tablets are quite popular and more importantly, they're good (great build quality, high performance, low price – the perfect combo). They've already released a couple of smartphones, and this year they're continuing the trend.
Alongside the Liquid Glow handset (which I can only describe as cute), they've also revealed the CloudMobile – a high end smartphone with great specs and support for the company's as-of-yet non-operational AcerCloud platform, which promises a lot of things, but we're still waiting for it to deliver.
Exterior design
The Acer CloudMobile has already managed to win an award for its design, despite not even being out yet. And you can't say that it was undeserved – the phone does look very nice with its slightly rounded edges, slim profile and textured back cover. One weird thing on the prototype model was the presence of the touch navigation buttons below the display AND the Android Ice Cream Sandwich System Bar – that will most likely be fixed in the production model, and they're going to remove the hardware buttons entirely (most likely) or remove the System Bar in Android (not likely and I hope not). Another interesting thing is the placement of the speaker grill – it's right at the toppest top of the device, which makes it look weird when you use it as a phone, like you're not holding it correctly.
Hardware specs and performance
The hardware specifications are nothing special for a just announced high end phone. The 4.3 inch touch screen gets the most attention for its 1280×720 pixels and great colors, brightness and viewing angles (it's an IPS LCD, by the way). The other specs mirror those of other handsets – there's everything you may need from Wifi N and Bluetooth to HDMI out and NFC.
The audio is supposed to be great thanks to the Dolby Mobile technology, but I'm not sure how much you can improve a smartphone's sound, even with stereo speakers. Obviously, the phone has two cameras: an 8 megapixels main unit on the back and a front facing 2 megapixels snapper. The performance will also be at a high level thanks to the 1.5 GHz dual core processor and 1 GB of RAM, which is more than enough to run Ice Cream Sandwich and a couple dozen apps, as well.
Availability and Price
The Acer CloudMobile is a pretty long way (in smartphone time) from being available to the general public, as it's just been demonstrated at a special event in Milan, and will officially be unveiled for the world at this year's MWC. We can expect it to cost around $100-200 when it's finally released, or even cheaper, seeing as there are quad core smartphones on the way. Either way, it looks like the CloudMobile will be a good offer for a lot of people – nothing out of the ordinary, but not too shabby, either.