Google is still pushing their Chromebook concept to the masses – they believe that a cloud based OS is the future, with clients using simple lightweight (both on terms of hardware and physical measurements) netbook-like machines to access everything. While that makes sense for corporations and educational institutions who'd like to reduce the cost of maintenance for said devices, the concept is still far from being ready for adoption by the masses.
Nevertheless, the company is pushing their ChromeOS-powered devices further, having already released no less than 5 different models – I don't have any idea who's buying them, since sales numbers seem to be really scarce. One of the latest additions to the Chromebook fleet is the Chromebook Pixel – a device that can top any Ultrabook when it comes to design and hardware, and yet will most likely make its owners angry with its inability to do tasks that every other normal laptop and tablet can.
Design
The Chromebook Pixel is really something else when it comes to design – it is hands down one of the most unique and high quality laptops on the market, easily comparable to the MacBooks Pro and Air (that also concerns the internal hardware). The whole body is made of anodized aluminum and feels very sturdy – it's also very minimalistic; even more so than Apple's MacBook Air. There are no curvy lines, no flashy stickers, nothing – just smooth, flat surfaces, which makes the Pixel look a bit odd from afar but unmistakably premium from up close.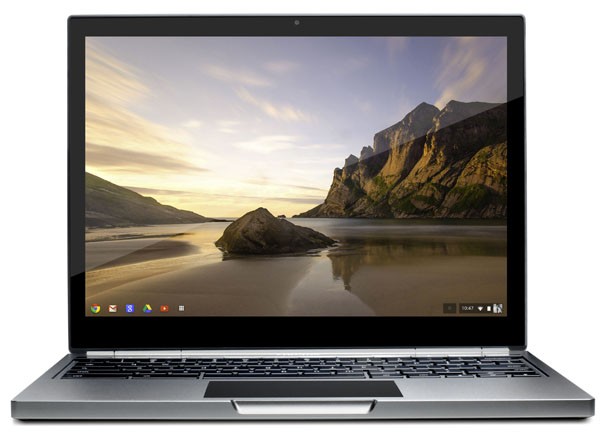 The attention to detail is also very Applesque – take for example, the nearly unnoticeable LED strip at the top of the lid, the long hinge on the back that doubles as both a Wifi antenna and a heatsink (there is no fan or vent, which is surprising considering even the Surface Pro has it with the same processor) and the hidden magnets that act as latches, keeping the lid securely closed all the time.
Open the Pixel and you're greeted by a unique 12.85 inch display (which itself is a work of marvel) with a darkened touch digitizer glass, a near-perfect backlit keyboard and a glass touchpad that is just as good as the one used by Apple on their laptops.
Hardware features and performance
The hardware inside the Chromebook Pixel is just as attractive as its exterior design. The 12.85 inch display, as I already mentioned, is a work of art – it's the highest density display on any device – heck, it even has more pixels than professional 30 inch IPS monitors! This screen uses an IPS LCD matrix and has a whopping resolution of 2560×1700 pixels, which comes out to a 3:2 aspect ratio and 239 PPI pixel density.
Just as you'd imagine, everything looks smooth as butter on the Pixel, the display is really one big pixel (suddenly the name makes sense). The colors pop, the contrast is excellent, the brightness is more than enough for any use and the viewing angles are pretty much perfect. Let's not forget that there's also a digitizer glass covering the display, so you get the control capabilities of a tablet and an Ultrabook in one device.
The processing power is also on a high level thanks to the Intel Core i5-3427U processor, which has two physical cores running at 1.8 Ghz (with Turbo Boost up to 2.8 GHz) and an additional two virtual cores thanks to Hyper Threading (which brings a 30-50% improvement in overall performance). The chip also houses Intel's own HD Graphics 4000 GPU and a memory controller that feeds 4 GB of DDR3 RAM running in dual channel mode. This chip, by the way, is more powerful than the one in the Surface Pro and most Ultrabooks on the market (not counting the optional Core i7, of course).
The storage memory seems low for such a high spec device, but then you remember that it runs ChromeOS, which takes up next to no space. There is a 32 GB SSD inside the Wifi only model and 64 GB inside the 4G LTE model. You also have an SDXC card slot, so you don't have to worry about running out of storage space for your files – moreover, you get a whole 1024 GB of storage on Google Drive, but obviously, you need to have a constant connection to read and write files there.
Other specs include a front facing 2.0 Megapixels camera that supports 720p video recording, dual band Wifi N, Bluetooth 3.0, 2x USB 2.0 ports (no USB 3.0 option, sadly), a mini DisplayPort and of course HSPA+/4G LTE on the LTE model only. The battery is a pretty large 59 WHr unit, but unfortunately it will only last up to 5 hours of use – the processor and display definitely take their toll on this one. It's still longer than the Surface Pro's 4 hours, so there's that.
Technical specifications
Specifications
Google Chromebook Pixel
Display
12.85 inches, 2560×1700 pixels (3:2 aspect ratio), IPS LCD, 239 PPI pixel density
Processor
Intel Core i5-3427U, 1.8 GHz (up to 2.8 GHz with Turbo Boost), dual core (four useable cores with Hyper Threading)
RAM
4 GB DDR3, dual channel
Graphics Adapter
Intel HD Graphics 4000
Storage Space
Wifi model: 32 GB SSD;
LTE model: 64 GB SSD;
Integrated SDXC card reader
1 TB free storage space on Google Drive for 3 years
Camera(s)
Front facing 2.0 Megapixels camera with support for 720p video recording
Connectivity Options
Wifi N (dual band), Bluetooth 3.0, 2x USB 2.0, mini DisplayPort, 4G LTE (LTE model only)
Battery
Li-Ion, 59 WHr, up to 5 hours of continuous use
Dimensions and weight
297.7 x 224.6 x 16.2 mm, 1.52 kg
Operating System and Software
ChromeOS
Software
Now here's where things get a bit ugly. The Chromebook Pixel, as you may have guessed from the name, runs Google's ChromeOS, which is a cloud-oriented operating system that is basically a glorified browser. For such a powerful machine to run this is more than weird – and indeed, it significantly limits what you can do on it. You won't be able to run any Windows (or Android) apps – and the choice of Chrome apps is rather limited. No games, no legacy software, nothing – you'll have to adapt to a pretty much whole new OS and way of doing things, which isn't easy.
ChromeOS has gotten pretty good at working offline, but it's still at its best when it's Internet-bound, and being always connected on 3G/4G can get really expensive really fast. For the moment, you can edit documents, watch videos, browse the Web, Skype and chat, play some rather basic games and do most of the stuff you'd be able to do on your usual Android tablet – but having paid over $1000 for this machine, you probably don't want to be limited like that. Chrome OS really breaks the deal – it should be possible to install Windows 8 on the Pixel, but there will be plenty of issues to solve afterwards, so don't expect an easy guide to pop up anytime soon.
Price and Availability
The Wifi only Chromebook Pixel has already been released and it retails for a whopping $1299 – that's probably more than you'd want to spend on what is essentially an experimental machine, unless you're sure you can install a real OS on it. There's also the LTE model, which will be released in April and will raise the price to $1449. Undoubtedly, the Chromebook Pixel is a wonderfully built device, but it's just not worth that amount of money – for the moment, you're much better off sticking with a MacBook Air, MacBook Pro or just about any Ultrabook on the market.