Acer is one of the top manufacturers of laptops, although they're not that well respected because of the frequent problems with their consumer devices. They've also successfully expanded to the tablet and Ultrabook markets, but they haven't had anything really unique to offer – until now.
The company pretty much shocked everyone when they showed off their latest product – the Aspire R7 – a laptop (technically it's too large for the Ultrabook moniker, but some call it that anyway) unlike any other. It's a complete rethinking of the old laptop design, and it fits perfectly in today's touch enabled world, while providing an amazing level of flexibility. Let's take a closer look and see why this is the all-in-one computer you must check out.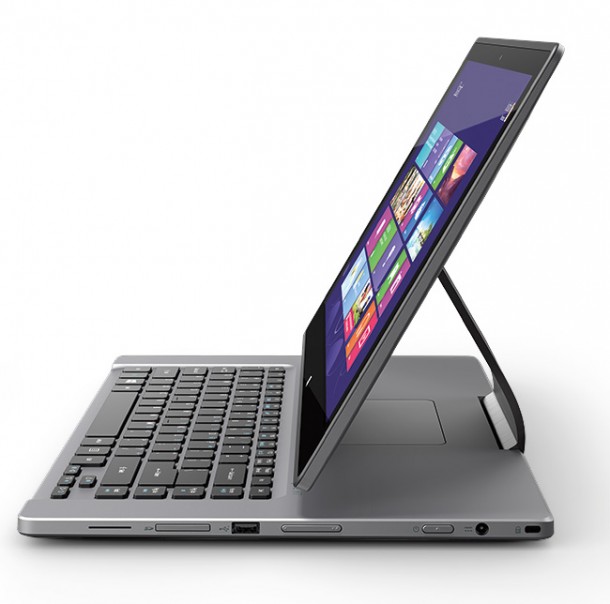 Design
The Aspire R7 literally turns laptop design on its head – the so-called Ezel hinge allows an unprecedented level of flexibility, making the R7 more transformable than the Transformer in my opinion. I have to say that this isn't the first time we've seen such a hinge – it was HP that first used something very similar in the short-lived Pavilion HDX (aka HDX 9000 Dragon) laptop, which was a desktop replacement behemoth with a 20 inch display. The hinge was one of its main selling points, too.


Acer took the idea from HP, they really worked on perfecting their Ezel hinge and implementing it way better than HP's "it can bring the display closer to you" prototype. The Aspire R7 can be used all the way between a tablet and a laptop mode, and the hinge never fails to deliver.
The base enclosure has also been revamped – you'll notice right away that the touchpad is above the keyboard, not the other way around. This also works surprisingly well – indeed, nobody said that the touchpad must be closer to the user, it's just what the industry got used to over the years. Having the keyboard closer to you means you can get the screen closer, too, which helps when typing and generally working with any software (especially with the Full HD resolution).
The build quality is also great – the R7 is made of aluminum through and through, with a strong glass covering the large display. It's really an innovative laptop rather than an Ultrabook, but at this size, 2.8 cm at its thickest and 2.5 kg can definitely be considered "thin and light", especially when you see the hardware specs.
Hardware features and performance
The Acer Aspire R7 isn't lacking when it comes to hardware features, either – it's got pretty much everything a normal laptop should have. The most important part of a laptop, whether touch-enabled or not, is the display, and whereas a lot of 13.3-15.6 laptops come with an inexplicably pathetic 1366×768 LCD, the Aspire R7 packs a wonderful 1920×1080 pixel IPS LCD screen even in its base configuration. The display is on par with that of the MacBook Pro's when it comes to color quality, contrast, brightness and viewing angles, so you can be sure it's good.
The processor is the weakest link in the Aspire R7, but it's not all that bad. This laptop is powered by an Intel Core i5-3337U dual core chip, which has a base frequency of 1.8 GHz, but stays at around 2.5 GHz in real life use thanks to Turbo Boost (it can also go up to 2.8 GHz on both cores and 3.06 GHz on one core, depending on the temperature and power usage). It's very power efficient and cool, and while standard office apps will run fine, it's barely enough (but still enough!) for something more intensive like Photoshop, AutoCAD, After Effects and other video/3D software.
There is a high chance that Acer will release a model with a more powerful processor, because the R7 can be equipped with a powerful NVidia GeForce GT 750M graphics chip, in addition to the i5's integrated HD Graphics 4000. The laptop also comes with 6 GB of DDR3 RAM by default, which can be upped to 12 GB. Storage space is provided by either a HDD of up to 1 TB in size (with a built in 20GB SSD cache) or an SSD of up to 256 GB – I'd choose the latter any day, personally.
Other specs include a 1.2 MP camera on the front, Wifi N, Bluetooth 3.0, a HDMI and a special converter port that is meant to connect an external USB/Ethernet/VGA adapter/dock (though Acer hasn't yet released such an accessory), 2x USB 3.0 ports and 1x USB 2.0 port, a 3.5mm audio jack and an SD card slot.
Perhaps not surprisingly, the R7 also has a few sensors that are usually found on tablets (gyro, accelerometer and light). The battery is supposed to last up to 6 hours of use – at this size, that's an optimistic number, but it may be possible with the screen at minimum brightness and sparse CPU usage.
Technical specifications
| Specifications | Acer Aspire R7 |
| --- | --- |
| Display | 15.6 inches, 1920×1080 pixels, IPS LCD, 141 PPI pixel density, Ezel hinge |
| Processor | Intel Core i5-3337U, 1.8 GHz (up to 3.0 GHz with TurboBoost), dual core |
| RAM | 6-12 GB DDR3 |
| Graphics Adapter | Intel HD Graphics 4000, NVidia GeForce GT 750M (switchable graphics) |
| Storage Space | Up to 1 TB hard drive OR up to 256 GB SSD |
| Camera(s) | Front facing 1.2 Megapixels camera with support for 720p video recording |
| Connectivity Options | Wifi N, Bluetooth 3.0, HDMI port, 2x USB 3.0 ports, 1x USB 2.0 port, SD card slot, 1x converter port (USB, Ethernet and VGA adapter) |
| Sensors | Gyroscope, accelerometer, light sensors |
| Battery | Up to 6 hours of continuous use |
| Dimensions and weight | 37.6 x 25.4 x 2.05-2.84 cm, 2.5 kg |
| Operating System and Software | Windows 8 Professional |
Software
Of course, this mobile powerhouse runs Windows 8 Professional, so it's able to run pretty much any programs you may need. It's up to you to decide what you want installed and get it from the Windows App Store or anywhere else online – Acer doesn't bloat the laptop with useless apps that you'll have to remove manually.
Price and Availability
The Acer Aspire R7 launched last month at a starting price of $1000 (or 900 pounds in the UK). That's a pretty good price for what you're getting – a unique, powerful and well-built laptop that can replace your laptop, tablet and media center at the same time.