Now that Windows 8 is being deployed on a massive scale (because it's pretty much the only OS Microsoft has on sale), devices running the OS are popping up everywhere. Windows 8 is not limited to desktop and laptop computers anymore – it's a full-fledged competitor to Android and iOS on tablets, while powering Ultrabooks on the side, as well. And it's definitely a much better choice than it's half-baked brother, Windows RT, so much so that people are skipping the ARM-based Windows slates (including the Surface) in favor of x86 devices running the full Windows 8.
The bad news here is that these tablets are considered more high end and are therefore, more expensive than the competition, so you'll have to pay a lot of money if you want one. But the landscape is changing, and it looks like Windows 8 will in fact be able to ship on cheap slates that anyone can afford – and Acer has just released such a device, the Iconia W510, a relatively affordable Windows 8 tablet that runs on an dual core Atom CPU and has an optional (and highly desirable) keyboard dock.
Design
Whenever you see a device that is noticeably cheaper than the competition, the first thing that comes to mind is "they must've skipped on something". In the Iconia W510's case, Acer decided to go cheap on the most obvious thing: design and build quality. It's not that surprising – Acer did build their laptop empire on cheap consumer products that work pretty well, and the W510 has incorporated some of the best tips and tricks they have. They also have an impressive range of netbooks, so the keyboard dock design came easy to them, as well.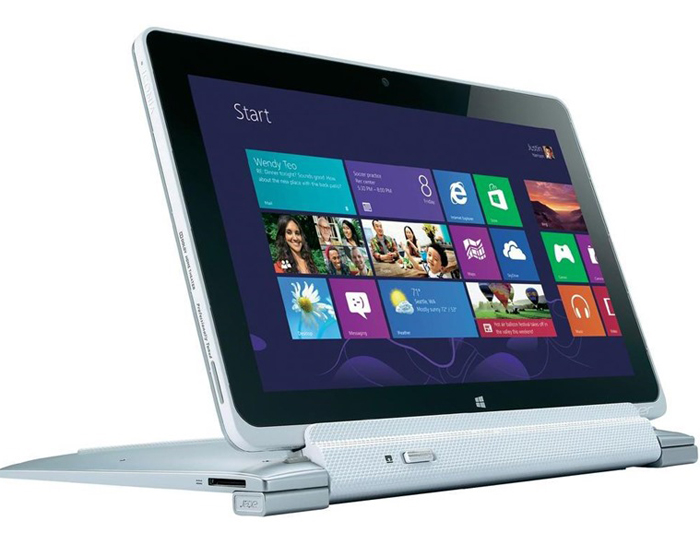 First of all, the color scheme is pretty horrible – white and gray don't really mix, but apparently nobody told Acer that. As a result, the W510 looks even cheaper than it actually is, which is not going to bide well for its sales. The tablet itself isn't bad – it's sturdy, it won't fall apart and it does its job very well. It has a Gorilla glass sheet covering the display, a white plastic frame surrounding the device, and a gray plastic back cover, all of which are well fitted and don't have any gaps or creaks or any other noticeable build issues.
The keyboard dock is also made mostly out of plastic, with the same white and gray scheme, and it looks pretty cheap. Things get a bit worse when you connect the two parts – the Iconia W510 looks just like a cheap netbook, only with a touch screen.
Functionally, though, it's a great device – the dock not only extends the battery life and adds a full size USB port, but it also has a Yoga-like 360 degree hinge, which gives you a lot of flexibility when using the device, unlike the similar Asus Transformer with its dock. You can use it to type comfortably or browse the Web, draw or watch movies with the display as close to you as possible without having to hold it.
Hardware features and performance
Thankfully, Acer knows its stuff and did not skip on the important part – internal hardware. Everything is very decent when it comes to that, with the Iconia W510 packing a 10.1 inch display with a 1366×768 resolution, an Intel Atom Z2760 dual core processor running at 1.8 GHz and featuring Intel's own graphics adapter (which is pretty powerful), 2 GB of LPDDR2 800 MHz RAM and 64 GB of onboard SSD storage space (which is noticeably faster than the normal NAND flash used on Android devices).
The Iconia W510 also has all of the usual sensors, a micro SD card slot that takes microSDXC cards, 2 cameras that provide a great picture quality, Wi-Fi N, Bluetooth 4.0 and even HDMI out. The battery life is rated at up to 9 hours for the tablet itself and up to 18 hours if you use the dock – I doubt it will reach those times, but from what we can tell, this tablet comes pretty close.
Technical specifications
| Specifications | Acer Iconia W510 |
| --- | --- |
| Display | 10.1 inches, 1366×768 pixels, TFT LCD |
| Processor | Intel Atom Z2760, 1.8 GHz, two cores, four threads |
| RAM | 2 GB Low Power DDR2 |
| Graphics Adapter | Intel Graphics Media Accelerator |
| Storage Space | 64 GB built in SSD drive, micro SD card slot (high capacity micro SDXC cards supported) |
| Camera(s) | Back – 8 MP with LED flash and 1080p video recording; Front – 2 MP with 720p video recording |
| Connectivity Options | Wi-Fi N, Bluetooth 4.0, micro HDMI, micro USB, keyboard dock with internal battery and 1x USB 2.0 port |
| Sensors | Accelerometer, Magnetometer, Light sensors |
| Battery | up to 9 hours of use tablet-only; up to 18 hours with the keyboard dock |
| Dimensions and weight | Tablet only: 259 x 167.6 x 7.7 mm, 576 grams |
| Operating System and Software | Windows 8 |
Software
The Acer Iconia W510 comes with Windows 8 pre-installed, which is a lot better in every aspect than the consumer tablet-oriented Windows RT. Not only can it run any Metro apps, but it's also perfect if you want to use any regular Windows software like Microsoft Word or Photoshop. If you need that ability on a tablet on the cheap, the Iconia W510 is pretty much the best choice you've got.
Price and Availability
The Iconia W510 has been announced several months ago, and it was just released at the end of January. You can find it on sale in stores and online, with the tablet itself going for around $499, and $699 if you want the keyboard dock – kind of a steep price for the keyboard dock, but if you want a cheap Windows 8 tablet, the W510 is a great choice.