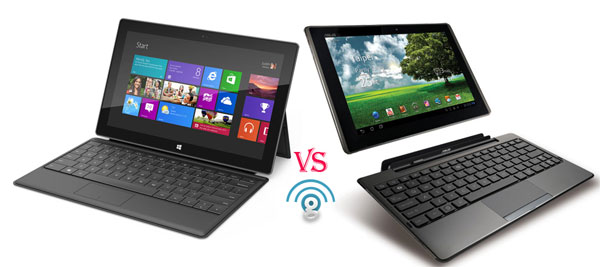 Microsoft has been on a roll this year, for sure: they've announced a new and improved operating system for desktops and laptops that has the potential to become the next best Windows OS, acquired a pretty good percentage of the smartphone market, announced their first ARM operating system, and they've announced two tablets that will run said operating systems.
The tablets I'm talking about are the Surface and the Surface Pro, and while the latter is more impressive when it comes to the specs, the former is more interesting overall – it's supposed to take on the iPad and Android tablets, and the best way to see if it's up to the task is to compare it with one of the best Android tablet you can get right now – the Asus Transformer Pad.
Design
The Microsoft Surface stands quite well when pitted against the Asus Transformer Pad – design wise, it's one of the most attractive tablets that we've seen recently. Unlike the Transformer Pad, the iPad and many other tablets, the Surface takes a no-frills approach with the external features – it's got strict lines, a flat back and a minimum of logos and writing around the housing. The housing itself is made out of a magnesium alloy, with the front being fully covered by the tough, scratch proof Gorilla glass. The Asus Transformer Pad isn't that much worse with its aluminum housing – it's just a matter of preference which tablet you choose, and right now I like the Surface more.
Both tablets have the same idea for the keyboard dock – the tablet docks into a connector, however unlike the battery-laden, ports rich Asus lapdock, Microsoft's version is ultra slim (only 3mm) and has no extras – it's more like a cover for the display with a built in keyboard than a specialized keyboard dock.
Hardware features and performance
When it comes to hardware specs, the Microsoft Surface and Asus Transformer Pad go pretty much toe to toe. Both tablets use NVidia's new quad core Tegra 3 SoC with 1024 MB of RAM to back it up and the standard GeForce ULV GPU – this platform can easily run any apps and games you can find on the marketplace and will more than likely be fast enough for years to come.
The storage space is pretty much equal: the Surface will have 64 GB of onboard storage space, while the Asus Transformer Pad has 16 GB of memory onboard and a micro SD card slot for expansion (you can install 32 or 64 GB cards, so you can actually have more storage space on the Transformer). The other hardware specs are pretty much the same for both tablets: check out the table below to see them.
Technical specifications
| Specifications | Microsoft Surface | Asus Transformer Pad |
| --- | --- | --- |
| Display | 10.6 inches, 1280×720 pixels | 10.1 inches, 1280×800 pixels, IPS LCD |
| Processor | NVidia Tegra 3, quad core | NVidia Tegra 3 T30L, quad core, 1.2 GHz |
| RAM | 1024 MB | 1024 MB |
| Graphics Adapter | GeForce ULV, 12-core | GeForce ULV, 12-core |
| Storage Space | 64 GB built in storage space | 16GB onboard storage space, 8 GB Asus WebStorage, micro SD card slot for expansion |
| Camera(s) | Dual camera setup, detailed specs as-of-yet unknown | Back – 8 MP; Front – 1.2 MP; both cameras support HD video recording |
| Connectivity Options | USB 2.0, Wifi N, Bluetooth 3.0, GPS | Wifi N, Bluetooth 3.0, micro USB, micro HDMI, GPS |
| Sensors | Gyroscope, accelerometer, light, magnetometer | Gyroscope, accelerometer, light, magnetometer |
| Battery | Li-Ion, 31.5 Wh | Li-Pol, 22 Wh – up to 10 hours of continuous use (up to 15 hours with mobile dock) |
| Dimensions and weight | 275 x 173 x 13 mm, 910 grams | 263 x 180.8 x 9.9 mm, 635 grams |
| Operating System and Software | Windows RT | Android 4.0 Ice Cream Sandwich (upgradeable to 4.1 Jelly Bean) |
Software
The Asus Transformer Pad comes with Android 4.0 Ice Cream Sandwich pre-installed, which can already be upgraded to 4.1 Jelly Bean with an OTA update. Android 4.1 Jelly Bean is simply awesome – it's really the best OS you can use on a tablet, with a smooth interface and all the features you can think of. Microsoft's new Windows RT is an unproven newcomer right now, but being an almost complete port of Windows 8, it has a lot of potential.
The Metro UI is surprisingly good on a bigger display, but the big squares may get old after a while – I suppose you can mitigate that by using live tiles everywhere. There aren't that many apps on the marketplace, either – this is the same problem that Android had when version 3.0 first came out, and I'm sure that with time, things will change for the better.
Price and Availability
The Asus Transformer Pad is already on sale pretty much everywhere, while the Microsoft Surface is still pending release. It should arrive soon, though, and it's said to be priced at around the same level as the Transformer Pad, which will actually be one of its main competitors. We still have yet to see how it will fare, but the Surface does have a lot of potential.