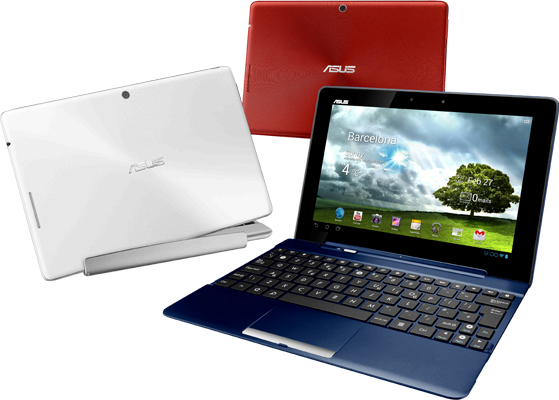 Availability and pricing of Asus Transformer Pad 300 was detailed for Europe a few days back along with Transformer Pad 700 and Padfone. Today, the US gets some lovin' too. The company announced Asus Transformer Pad 300 for the US market, along with its price and availability. In fact, the slate is shipping to the US earlier than it will in Europe where it isn't expected to arrive until next month.
Transformer Pad TF300 will be available online in the US beginning April 23, Monday. It will then hit stores the following week on April 30. Asus is pushing out two versions of the tablet – a 16 GB and a 32GB model. The 16GB Transformer Pad 300 is selling for $379 whereas an additional $20 (for a total $399) could get you the 32GB version. For another $149, you can buy the optional docking station available for retail and turn the tablet into a laptop. This docking station isn't compatible with Asus Transformer TF101, Prime TF201 or any model released prior to TF300.
As of the moment, you can only get Asus Transformer Pad 300 in royal blue. Other colors like iceberg white and torch red will arrive later, sometime in early June. It could be the same case for Europe where the slate isn't hitting stores until mid-May. If you want to get your hands on a fresh unit right away, you should place your orders online this April 22. Along with pricing and availability, complete specs of Transformer Pad 300 were also announced today.
Specifications
• Display: 10.1" WXGA (1280 x 800 pixels) with LED backlight and IPS panel for wide viewing angle; 10 finger multi-touch
• Android 4.0 Ice Cream Sandwich
• CPU: 1.2GHz Quad-core NVIDIA Tegra 3 T30L
• GPU: 12-core GeForce with built-in 3D stereo
• WiFi 802.11 b/g/n
• Bluetooth 3.0
• 3G/4G connectivity
• Camera: 8MP with autofocus (rear) and F/2.2 aperture, 1.2MP (front)
• 1GB RAM
• 3.5mm audio jack for headphones and MIC
• Micro-HDMI port
• MicroSD card reader
• Built-in microphone
• High quality speakers
• Battery life: 10 hours (without dock), 15 hours (with dock)