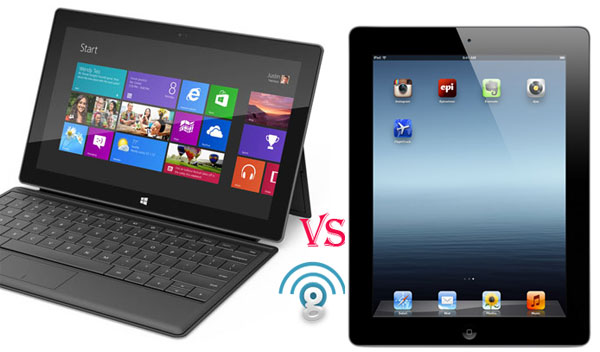 The iPad is still the most sold tablet all around the world, and even though most Android tablets are better specs wise, it's probably going to be a while before any other device overcomes it in the number of sales. While we already know how Android stacks up against iOS (it's an equal fight, pretty much), it's more interesting to see newcomers try to take on the giant.
Microsoft's Surface tablet is exactly that – a newcomer, and that applies not only to the hardware, but also to the software. The upcoming tablet from Microsoft features the all new, never before seen Windows RT, which is basically a port of Windows 8 to the ARM platform. This is not exactly a first for Microsoft, as they have had Windows Phone 7 out for a while, but it shows that they've acknowledged and are finally trying to break into the consumer tablet market with a product that can actually compete with the current products on more or less equal terms. So, how does the Microsoft Surface stack up against the third generation iPad?
Design
The Surface compares quite favorably to the iPad 3 when it comes to the design: Microsoft really went all out on this, giving the tablet a unique design that is unlike anything else on the market. Not only does the tablet use a unique 10.6 inch display, but it also has a durable magnesium alloy casing, a strong scratch resistant glass on the front, a 9.3 inch uniform slim profile and only 676 grams in weight – it's pretty much the same weight as the iPad 3 while being slightly larger. Overall, both tablets have their unique design that some people will like more than others, and that is a good thing for any tablet (there's definitely not going to be any "this looks like an iPad rip-off" phrases from anyone).
Hardware features and performance
The hardware of both the Surface and the iPad 3 is very similar, although there are some obvious differences that you'll notice right away. The iPad 3 uses a high density 9.7 inch IPS display that packs 2048×1536 pixels – there's really nothing else quite like it on the market. The Surface may have an exclusively sized 10.6 inch screen, but it's a pretty average one: with a resolution of 1280×720, you won't surprise anyone. Nevertheless, the screen looks good and is very usable.
The iPad 3 is a bit behind times when it comes to the processing power, though: its dual core 1 GHz processor can't compare to the quad core 1.3 GHz Tegra 3 that's inside the Surface in terms of raw power; however you won't really notice the difference in everyday apps. There's 1 GB of RAM in each tablet, so multitasking performance will be similar, as well.
The other specs are very similar, as well, if you compare the Wifi only models of course (it's unknown whether the Surface will have a cellular modem – that seems to be a privilege of the Surface Pro) – see the table below for the details.
Technical specifications
| | Microsoft Surface | Apple iPad (3rd generation) |
| --- | --- | --- |
| Display | 10.6 inches, 1280×720 pixels | 9.7 inch, 2048×1536, IPS LCD, 264 DPI |
| Processor | NVidia Tegra 3, quad core | Apple A5X, Dual Core, 1GHz |
| RAM | 1024 MB | 1024 MB |
| Graphics Adapter | GeForce ULV, 12-core | Quad Core GPU |
| Storage Space | 64 GB built in storage space | 16/32/64 GB built-in |
| Camera(s) | Dual camera setup, detailed specs as-of-yet unknown | Back – 5 MP with 720p video; Front – 0.3 MP |
| Connectivity Options | USB 2.0, Wifi N, Bluetooth 3.0, GPS | Wifi N, Bluetooth 3.0, HDMI, USB, GPS, HSPA+, 4G LTE |
| Sensors | Gyroscope, accelerometer, light, magnetometer | Gyroscope, accelerometer, compass, light, proximity |
| Battery | Li-Ion, 31.5 W/hr | 11560 mAh – up to 10 hours continuous work on 3G |
| Dimensions and weight | Dimensions not yet revealed; 9.3 mm thickness, 676 grams | 241.2 x 185.7 x 9.4 mm, 662 grams |
| Operating System and Software | Windows RT | Apple iOS 6 |
Software
We all know how iOS looks and works by now, and Microsoft's Windows RT definitely brings a bit of refreshment to the market. Just like Windows Phone 7 has the most unique UI on smartphones that is unlike Android, WebOS or iOS, so does Windows RT. Metro UI translates really well into a tablet interface – it's really easy to use and it looks quite nice, as well. The downside of having a whole new UI is that there aren't a lot of apps around, however their number is slowly increasing – I'm sure we'll have enough of them for everyday use to be comfortable by the time Microsoft actually releases the tablet.
Price and Availability
While you can already buy the iPad 3 in stores and online, the Surface's release date hasn't been set yet, but everyone is expecting it to be released by the end of fall, just after Windows 8 and RT operating systems themselves are officially released (which should happen in October). The price is supposed to be lower than that of the iPad 3, which should translate favorably into sales – but we'll have to wait and see what will actually happen.