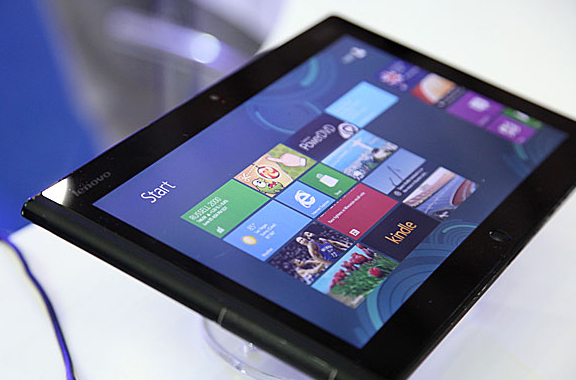 The ThinkPad is an iconic name in the computer industry, and most of the business and power users will tell you that they would choose a ThinkPad laptop over anything else right away. IBM definitely made a great product, and the situation still stays that way even now, with Lenovo in charge (they have acquired IBM's computer manufacturing business, in case you didn't know).
Lenovo has expanded upon the ThinkPad brand, though, bringing a few prosumer laptops and business tablets to the market, as well. They didn't have a Windows tablet, though, which seemed weird since Windows is still the preferred OS in the corporate world, but now we finally know why they held out for that long: they were waiting for Windows 8! Last week, Lenovo demonstrated their Windows 8 tablet prototype, and it definitely looks like it was made for serious work.
Design
The Windows 8 ThinkPad tablet has a very ThinkPad-ey feel to it, which is mostly due to the straight corners and of course, the matte black plastic housing with a soft touch finish – this has been the ThinkPad's calling card for years now. It works quite well on a tablet, too: it makes it easy to hold and you won't be afraid of dropping it every time you try to work on it while you're standing or moving. Just like the ThinkPad laptops, the tablet looks understated – almost ugly, even, but it feels and works great.
Hardware features and performance
Lenovo didn't go into the hardware specs of the device much, which is understandable – they're keeping it secret and it's just a prototype, a lot can change in the final release. What we do know is that the display is a 11.6 inch unit with a 1366×768 pixels resolution and that the tablet has a micro HDMI port, a proprietary interface port (which may and hopefully will be replaced by a normal micro-USB port), two cameras (an 8 MP unit on the back and a 2 MP unit on the front) and a SIM and micro SD card slots hidden under a rubber cover (so it will come with optional 3G built-in).
The main hardware specs remain unknown, but we know that it will be running an Intel x86 Atom processor of the new Clover Trail series, which promises to deliver high performance and a 10 hour battery life – we'll see about that when it's released.
Software features
Obviously, the tablet runs Windows 8, and the touch screen experience has improved quite a lot since Windows 7, mostly thanks to the Metro UI interface, which is very much like the version seen in Windows Phone 7, although for bigger displays and with more features, courtesy of the native x86 kernel that powers everything. The old Windows desktop is still there, and this is where the tablet shines: you can easily use it in touch screen mode with Metro, and still be able to run any Windows apps in desktop mode – it's the best of both worlds.
Price and availability
There's no word on the price or availability of the new ThinkPad, but we're guessing it will be released sometime this fall, at the same time as Windows 8. The price will most likely be higher than that of Android and Windows RT tablets, but the x86 processor and legacy support will be worth it for a lot of people.
image source: CNET