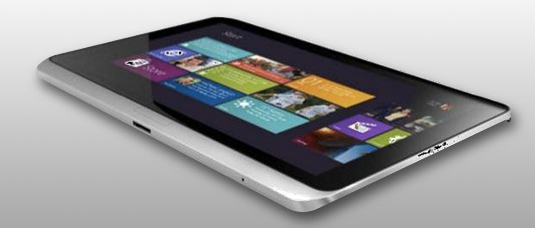 The death of WebOS is still a fresh memory maybe because it's barely a year since Leo Apotheker, former Hewlett-Packard CEO, killed it off. HP stopped operations on the mobile platform and the future of HP tablets and smartphones was unclear from then on. There were rumors about adopting HP adopting Windows 8 for their smart devices and in a recent Q3 earnings call, HP CEO Megan Whitman and Executive VP of personal systems group Todd Bradley finally confirm it. They even gave hints on its announcement date.
Whitman said they are currently at "the beginning stages of a new segment in personal computing" while referring to upcoming HP tablets. She said they believe it isn't too late for HP to succeed in the tablet market industry and that the work they do with Microsoft is "extraordinarily compelling." Meanwhile, Bradley said HP never entertained the thought of ending their tablet lineup or quit releasing Windows slates. Before you raise an eyebrow, HP did produce a Windows tablet called Slate 500 but it wasn't available for regular consumers. It was sold to businesses for $800.
"I think we need to be in the tablet business. And we are certainly going to be there with Windows 8," said Bradley. But as for WebOS, Bradley said Hewlett-Packard is still deciding its long-term future in the company.
A week ago, details of HP Slate 8 was leaked online. It's a 10.1" Windows 8 tablet targeted towards the business class. We're not sure if HP will offer it as a business solution, much like Slate 500, or as something available for consumers. We do know that it can be used as a tablet PC hybrid like Asus Transformer Pad since features detail an "enterprise-level docking" option. Furthermore, if it were to have "digital pen input" as it says, it might as well be a competitor to Samsung Galaxy Note 10.1. Considering the statement released by Whitman, HP might announce Slate 8 and other Windows 8 tablets by November 2012 during their next earnings report.
Specs
• Weight: 0.68kg
• Dimensions: 9.6mm thin
• 10.1-inch screen
• Multi-touch panel
• 8 to 10 hours of battery life
• Operating System: Windows 8 Professional
Features
• Outdoor viewing option
• Enterprise-level docking
• Multi-touch or digital pen input