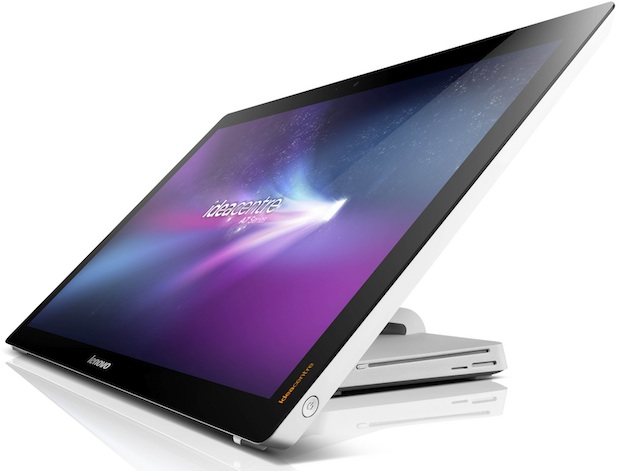 Shortly after the launch of Ivy Bridge processors, Lenovo unveiled a series of computers powered by Intel's latest lineup. Three new products were announced by the company – IdeaCentre A720 AIO, IdeaPad Y480, and ThinkPad Edge E430.They'll be powered by quad-core Intel Core i7 and have the latest version of Lenovo's Enhanced Experience, EE3. And because they have EE3, it takes them an average of 24 seconds to boot while most of their competitors take 41 seconds.
IdeaCentre A720 AIO
This desk-bound, all-in-one (AIO) PC has a 27-inch multitouch display which can be folded down to a point where it lies flat. It ends up being parallel to the tabletop, making it easier to use the touchscreen. Contrary to what Apple CEO Tim Cook believes is "unintuitive" after trashing the idea of MacBook iPad hybrid, A720 feels otherwise. From what we know, IdeaCentre A720 has impressive specs. Under its hood will be a 2.3GHz Intel Core i7 3610QM, 8GB RAM, NVIDIA GeForce GT 630M chip, and a Blu-ray drive. It can be configured to an HDD (1TB) and SSD (64GB) combo for increased system responsiveness and storage space expansion. It will launch in the first week of June with an estimated price of US $1,200.
IdeaPad Y480
Y480 is basically a multimedia beast with the same quad-core, Ivy Bridge processor as A720. It gets GeForce GT 650M for its graphics card for an enhanced multimedia experience. The dark gray metallic finish of IdeaPad Y480 is new but it has the same one-piece touchpad design as most of its competitors are. Other specs include 8GB RAM and 1TB HDD. The 14-inch model will be available starting next week with starting price of US $899.
ThinkPad Edge E430
This model has the classic look of ThinkPad laptops and even has the red ThinkPad TrackPoint we're accustomed to. Another not-so-new design feature is its soft-touch lid and standard 14-inch screen. It will be marketed towards business users. Users have the option to choose between a discrete graphics card (NVIDIA GeForce GT 630M) or an integrated one. SSD, HDD, and SSD/HHD configurations are also possible with Lenovo ThinkPad Edge E430. Specs such as 1TB storage, 8GB RAM, 720p web cam, and 5GB cloud storage make it a mainstream option too despite its professional appearance. The laptop will be available beginning mid-May for US $549 which makes it the cheapest of the trio.