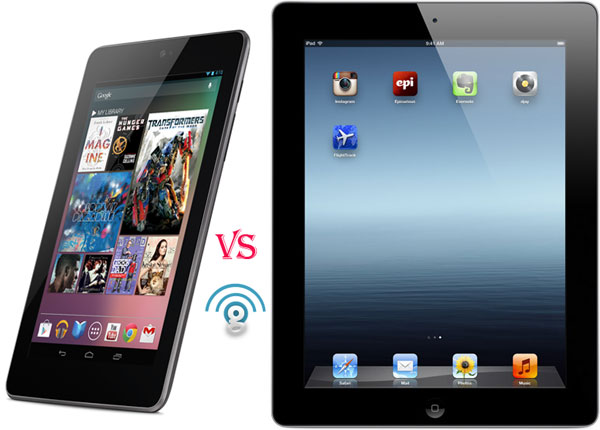 Apple's iPad is already in its third generation and we can say for sure that it has established itself as the number one choice in the high end tablet niche – it may not have the raw performance of even lower end Android tablets, but its great build quality and ease of use make it the perfect choice for every non tech savvy user out there who wants a portable computer that "just works".
However, the competition hasn't been sitting idle – software wise, Google's Android has almost caught up with Apple's iOS in the ease of use and stability departments, and Google has finally decided it's time to release their own tablet. The result is the Nexus 7 – a high quality, fast tablet aimed at the budget-conscious users who want to get the best hardware for their money.
Design
It's not really fair to compare the high end iPad with the low-mid range Nexus 7, however the new tablet holds up pretty well in the face of the giant. If you take into consideration the price, you definitely get the best for your money. The iPad has a stylish and durable aluminum and glass construction and is very slim, while the Nexus 7 counters that with a smaller size and a pretty respectable build quality of the plastic housing. Both tablets use Gorilla glass on the front, and the Nexus 7 has a textured finish on the back, which makes it less prone to scratches while making it easy to hold.
Hardware features and performance
The hardware features are the main attraction of the new Nexus 7 – Google and Asus (who actually manufactures the device) put in the best components they could for the price. The Nexus 7 has a 7 inch IPS display with a 1280×800 resolution, and while it doesn't hold a candle to the iPad's magnificent 2048×1536 Retina Display, it's still a very respectable screen that will satisfy most people.
The most interesting thing is the performance – thanks to the quad core Tegra 3 running inside, the Nexus 7 actually outperforms the iPad, and you can't claim that the latter has a smoother interface, either – that may have been the case in the past, but with version 4.1 Jelly Bean, Android has become just as smooth and fast as iOS, which is an impressive achievement.
Of course, the iPad does have quite a few features that the Nexus 7 lacks: it has a back facing camera, more storage space, a 4G LTE model, and a huge battery, but if you don't need those, the Nexus 7 is still a great competitor (its battery also works for about 10-12 hours before completely discharging).
Technical specifications
| | Nexus 7 | Apple iPad |
| --- | --- | --- |
| Display | 7 inches, 1280×800 pixels, IPS LCD, 216 DPI | 9.7 inch, 2048×1536, IPS LCD, 264 DPI |
| Processor | NVidia Tegra 3, Quad Core, 1.3 GHz | Apple A5X, Dual Core, 1GHz |
| RAM | 1024 MB | 1024 MB |
| Graphics Adapter | NVidia GeForce ULV, 12 core | Quad Core GPU |
| Storage Space | 8/16 GB built in, no micro SD card slot | 16/32/64 GB built in |
| Camera(s) | Front facing 1.2 MP unit | Back – 5 MP with 720p video; Front – 0.3 MP |
| Connectivity Options | Wifi N, Bluetooth 3.0, USB, NFC, GPS | Wifi N, Bluetooth 3.0, HDMI, USB, GPS, HSPA+, 4G LTE |
| Sensors | Gyroscope, accelerometer, compass, light, proximity | Gyroscope, accelerometer, compass, light, proximity |
| Battery | 4325 mAh, Li-Ion, up to 10 hours of continuous use | 11560 mAh – up to 10 hours continuous work on 3G |
| Dimensions and weight | 198.5 x 120 x 10.45 mm, 340 grams | 241.2 x 185.7 x 9.4 mm, 662 grams |
| Operating System and Software | Android Jelly Bean 4.1 | Apple iOS 5.1 |
Software
At this point, we all pretty much know what iOS is all about, how it looks and how it works. It's dead simple and yet advanced, it has a nice and easy to use interface and it's very fast and smooth even on the single core processors in the first iPad and iPhone 4. Well, Android 4.1 Jelly Bean is pretty darn close to that and is even better if you're an advanced user – there are many features that are unique to this OS, with the most notable being the support for encryption, wireless transfer technologies, support for external devices (you can connect hard drives, 3G modems or anything else using a microUSB to USB cable), and more. The interface is also very pretty and looks more sophisticated than that of the iPad, and if you can get over the learning curve, Android is a perfect OS for any kind of user.
Price and Availability
Of course, the price is the biggest selling point of the Nexus 7 – at $200 for the base model, it's pretty much unbeatable! The cheapest iPad is $500, which is 2.5x times as much – that's definitely a thing worth taking into consideration when choosing a tablet. The Nexus 7 is also quite future proof, and if you're a price conscious buyer, there's really no reason not to go for it, unless of course you can afford the iPad, which does have the beautiful display and a couple of extra hardware features.