Android and HTC have a relationship that has been persistent for years now and the latest series of devices are strengthening the bond between two major stakeholders of the smartphone industry. If you don't have a smartphone these days, you are busted! A smartphone has gained the same importance as an email used to have in the start of 21st century; you had no opportunities if you did not have an email address.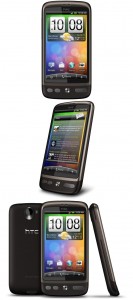 HTC Desire is the device that does integrate all your needs and desires into one powerful machine where you have business and other applications going hand in hand.
The email and scheduler of HTC Desire is quite impressive as you will stay connected to your business world no matter where on the planet earth you are.
Your company directory is available to you all the time. The smartphone has also turned the web based experience to be way better then the predecessor as the internet experience is a lot better in the device.
The pinch to zoom feature makes it even better in terms of accessibility as you get the text zoomed up a bit.
There is one thing that HTC desire seriously lacks at and that is the camera. Though HTC claims to have a camera that shoots images so real that you actually want to touch them but there is nothing of that sort when it comes to practical examination.
The phone does have a 5 megapixel camera with autofocus and flash but things would have been a lot better than this. The photo quality and camcorder quality, both are not as expected from a device that costs and claims this much.
HTC desire has all the power that you can expect from a smartphone as it features 1GHz processor with 576MB of Memory to run the Android OS 2.1 and all the applications that you wish to run.
The multitasking experience gives you no lag while you are using the Desire. The memory storage is also impressive as you can customize that by adding up a microSD card that reaches up to 32 GB.
HTC Desire is doubtlessly an excellent phone but it would have been even better when it comes to the camera and the user interface as well. There are still a lot of features a normal being would not understand.
The speed and compatibility are perfect for HTC Desire to be termed as the best and most powerful Android phone ever. I guess this compliment says a lot about a device.